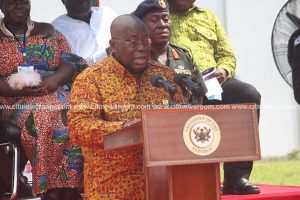 President Akufo-Addo has vowed to keep a keen eye on the newly created Regional Coordinating Councils (RCCs) to ensure that the desired development which formed the basis for the creation of the 6 new regions is realized.
The president who was addressing a durbar of chiefs and people of the Oti region in Dambai as part of his two-day working visit to the region, indicated that the creation of the new regions will mean nothing if the men and women who are managing the new regions do a bad job thus his interest in the new coordinating councils.
"The director for local government service, Ing. Dr. Ato Arthur has sent here key Regional Administrative staff who will be responsible for driving the Oti developmental agenda and I can promise you that I will keep a keen eye on the new Coordinating Councils to ensure that they work with the government to deliver the development the people desire…We have been able to mobilize money to procure 13 vehicles including 5 Motorbikes and 8 cars to aid the new appointees in their work," the president pledged.
Nana Akufo-Addo also noted that the roads in the Oti enclave will see a facelift with work progressing steadily on the Nkwanta-Dambai road.
"I am impressed with work on the Nkwanta-Dambai road and I can assure you that plans are far advanced for the construction of Dambai and Krachi town roads," the president said.
Responding to a request from the Krachi Wura, Nana Mprah Besemuna III for a bridge over the Oti river, the president said processes are far advanced for the construction of the bridge.
"I can assure you Nana Mprah Besemuna, I have good news for you. A Dutch company has made a proposal to the roads and highways….The minister is waiting for the letter of no objection letter from the Minister of Finance…And the Minister has told me that all things being equal, work on the construction of a bridge over the Oti river should begin in by the 4th quarter of this year," President Akufo-Addo indicated.
The president also reiterated his commitment to evenly spread development across the new region.
---citinewsroom