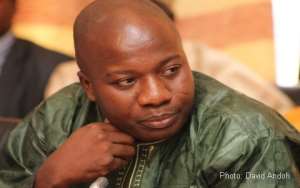 Mahama Ayariga, MP for Bawku Central
The media in Ghana is awash with a list of some 26 cases pending before the Office of the Special Prosecutor for investigation and possible prosecution.
Among these cases, only one has ended up in the courts and that case has to do with Mahama Ayariga, the Member of Parliament for Bawku Central concerning the purchase of some ambulances.
Mahama Ayariga's name comes out for special mention because he has been cited in multiple cases in the list of cases pending before the OSP.
Out of the 26 cases, ModernGhana can confirm that the Bawku Central law maker has been implicated in not less than three of them. But he has also come out to defend himself against all the accusations made against him.
Though the Chairperson of the Board of Directors of the Office of the Special Prosecutor, Linda Ofori Kwafo, has questioned the authenticity of the list currently in the media space, curiosity has gotten the best of us.
We however remain curious about what could be the force of attraction for the Bawku MP who held different ministerial positions in the erstwhile NDC administration to be cited in so many of these cases.
ModernGhana has noticed that he is the only personality whose name is featured for more than twice in the list that has both former and current government officials under investigation by the Special Prosecutor. What is so special or not so special about him that makes him an easy target for the OSP Office is something that is still on the minds of many.
Meanwhile, the list has cited him for procurement breaches in the purchase of ambulances; Tax evasion; abuse of Public office involving (ASH PLANTPOOL); abuse of office for private benefit in a case involving ( J. A PLANTPOOL).
However, following the release of the list into the media, Mahama Ayariga has rejected all the accusations against him.
He has indicated that he has complied with tax assessment from the Ghana Revenue Authority (GRA) concerning the matter of tax evasion in the importation of land cruisers. Adding that, he has been issued receipts confirming his tax compliance and therefore he has no fears at all.