Asiakwa Chief Begs For More Police Personnel As Youth Smoke 'Wee' With Swag And Impunity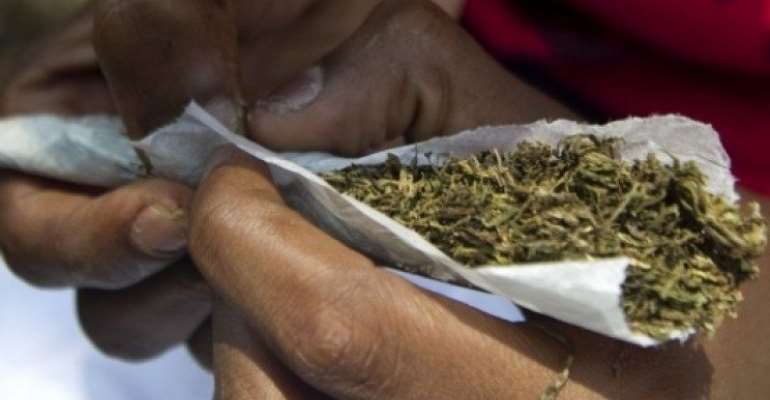 The chief of Asiakwa in the Eastern Region, Nana Kofi Asumanin, has hinted that the community can only boast of four police personnel in charge of the 20,000 populations, describing it as woefully inadequate in protecting lives and properties.
He said out of the four police officers, two of them are usually stationed at two banking institutions in the town, leaving the 20,000 populations and other several properties in the hands of just two police officers.
Nana Kofi Asumanin who made the disclosure in an exclusive interview with Otec Fm's 'Nyansapo' morning show hosted by Captain Koda, on Wednesday, said all attempts to improve the security situation in the town has proven futile.
Nana Kofi Asumanin comments came in the wake of a murdered teacher of Salvation Army Basic School teacher in Asiakwa, George Sumoah Bosmpem, by six suspected young men on May 3, 2019.
He believed the death of the teacher could have been avoided if the police force in the community is adequate.
"The security needs to improve to meet the increasing population. Most of the youths in the community are seriously addicted to drugs like marijuana, tramadol and 'shisha', and due to poor security they have no fear for their criminal actions," he lamented.
He noted that "Asiakwa has only four police officers and two are stationed at two banks operating in the town so only two police officers are in charge of the 20,000 population. I am therefore appealing to the IGP and other security stakeholders to help improve the situation. It was just recently that two more personnel from the Community Police Unit were brought in to augment the security."
"I want to use your media to plead to the President and the IGP to improve our situation though the Municipal Assembly is aware of our situation and has promised to help," the Asiakwa chief appealed.
On the death of the teacher, Nana Kofi Asumanin who condemned the incident indicated that there has since held a Parents- Teacher forum in the town to improve stakeholder relations and assured the teachers of his resolve to ensure to beef up security at all costs.
Nana Kofi Asumanin further charged the Minister of Education, Dr. Mathew Opoku Prempeh, who has since commiserated with the family of the late teacher to provide lighting systems for the schools, adding some criminals take advantage of the developments to perpetrate all manner crimes to the people in the community.