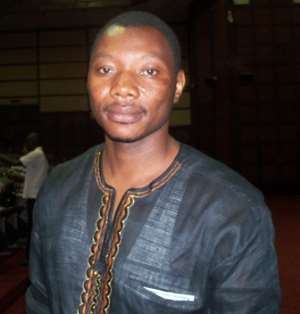 He says there is "unprecedented insecurity in Ghana"; so, it can be safely assumed that Mr. Bernard Mornah was either too young or not even born, yet, during the globally infamous Rawlings-Tsikata Reign-of-Terror (See "Re: Mornah, Akufo-Addo Is a Far Better President Than Your Idol Mahama" Ghanaweb.com 5/14/19). If either case or both cases hold true, then the General-Secretary of the People's National Convention (PNC) needs to conduct some substantive research on the above-referenced period before cavalierly presuming to frontally take on yours truly.
At any rate, where was this toddler with a shark's tooth when the Achimota Killings of middle-aged women were taking place in the waning days of the second term of former President Jerry John Rawlings' tenure of the now-opposition National Democratic Congress (NDC)? You see, you simply cannot take seriously the jaundiced partisan perspective and faux reality of such an impudent carpetbagging professional liar. And, by the way, there is absolutely no way that a piddling political small fry like the PNC's General-Secretary can claim to be busier, and more productively so, than yours truly. But that is a patent nonissue to presently debate in this column.
At best, this veritable rabble-rousing charlatan is "Busy-for-Nothing," if the Dear Reader were to seek my opinion on the vacuous self-importance of this self-preening popinjay and the subject of this column. And, by the way, talking of "kidnappings," has the virulent Akufo-Addo critic ever heard of the June 1982 primitive abductions and brutal assassinations of the Three Akan-Descended Accra High Court Judges, namely, Justices Cecilia Koranteng-Addow, Frederick Poku-Sarkodie and Kwadwo Agyei Agyepong by the key operatives of the Rawlings-led Provisional National Defense Council (PNDC), the institutional antecedent of the Rawlings-founded and chaperoned National Democratic Congress?
Now, come on, pickup-truck kickback recipient, let's talk about "racism, tribalism, ethnic chauvinism" and SADA scam-artistry. The fact of the matter is that there can be absolutely no way in which any levelheaded Ghanaian critic could objectively and righteously accuse the Akufo-Addo-led Administration of the New Patriotic Party (NPP) of being more corrupt than any of the Fourth-Republican regimes of the National Democratic Congress. Indeed, reading through Mr. Mornah's chunk of scatological pabulum, which the so-called Convener of the seditiously named Coalition for National Sovereignty cheaply passes off as a well-calibrated rejoinder, I could not help but logically conclude that these were the rants of a cognitively confused/dissonant self-important political scumbag.
You see, in one breath, this epic political failure calls yours truly a nuisance "serial liar" for whom President Addo Dankwa Akufo-Addo has absolutely no use in his Administration; while in another breath, the PNC's General-Secretary calls yours truly "Akufo-Addo's Ventriloquist." In other words, for this barbiturate-tanked Akufo-Addo critic, Kwame Okoampa-Ahoofe is the medium through which the President of Ghana rhetorically rallies and hits back at his legion of nuisance critics, including Mr. Bernard Mornah, with a vengeance. Which is why this busy-for-nothing professional rabble-rouser would take precious time off his "busy schedule" to rejoin my forthright assessment of his indisputable political and ideological insignificance in Ghana's progressive political culture.
You see, I had expected that Mr. Mornah would conduct an in-depth analysis of all the previous Fourth-Republican governments and tell his audience why he objectively thought Nana Akufo-Addo was the least competent of all the leaders of our present political dispensation, knowing full-well that the rambunctious critic would have absolutely no legs to stand on. Mr. Mornah also, ironically, accuses President Akufo-Addo and yours truly of flagrantly attempting to stifle free speech rights, by conveniently ignoring the fact that the very lynchpin of Fourth Republican Ghanaian democratic free speech, to wit, the landmark Repeal of the Criminal Libel Law, was crafted by the former Attorney-General and Minister of Justice under the equally progressive tenure of President John Agyekum-Kufuor.
In sum, somebody more forward-looking ought to charitably inform Mr. Mornah that, today, he is able to crudely, savagely and publicly attack President Akufo-Addo without expecting to be picked up under the thick of darkness, by operatives of our national security agencies, precisely because of the enactment of the Repeal of the Criminal Libel Law, and not because of the nonesuch generosity and visionary foresight of any other Ghanaian leader. Mr. Mornah may also have too pathetically and rather too soon forgotten about the globally infamous Dumsor-Architect's abominable decree, in the leadup to Election 2016, that absolutely no Ghanaian citizen, least of all eligible Ghanaian voters, had any constitutional right to criticize a sitting President John Dramani Mahama.
Indeed, all may not be well under the Akufo-Addo/Bawumia government, but it cannot also be objectively gainsaid that the present government is more than three-hundred times better than the kleptocratic double-salary drawing and Ford Expedition Payola Scam-Artistry of the previous regime.
*Visit my blog at: kwameokoampaahoofe.wordpress.com Ghanaffairs
By Kwame Okoampa-Ahoofe, Jr., PhD
English Department, SUNY-Nassau
Garden City, New York
May 15, 2019
E-mail: [email protected]