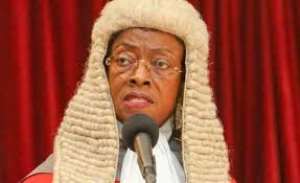 Chief Justice, Sophia Akuffo
The Chief Justice, Her Ladyship Sophia Akuffo has warned journalists who report from the Court to desist from taking pictures in the courtroom.
A communique signed and issued to all Media Houses by the Judicial Secretary, Cynthia Pamela Addo said "it has come to the notice of her Ladyship the Chief Justice that certain media houses have displayed pictures of parties in the courtroom on an online news portal, a clear indication of breaches of the directives, other members of the media have also been captured by the Courts CCTV cameras taking pictures."
The act, according to the statement, breaches the directive issued by Her Ladyship on April 15, which amongst others prohibits the taking of photographs or recording video images in court.
The statement added that reporters who fail to comply with the directive will have their equipment confiscated.
Below is the Statement: