CID Boss Hot As Pressure Mounts To Resign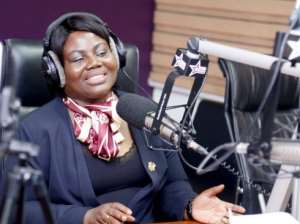 CID Boss, Maame Yaa Tiwaa Addo-Danquah
Pressure is being mounted on the Director of the Criminal Investigation Department ( CID) of Ghana Police Services, CoP Maame Yaa Tiwa Addo-Danquah to resign for trying to wipe her mouth off her earlier comments on the whereabout of the kidnapped girls.
Many civil society organizations and political pressure groups in the country are asking the CID Boss to simply tender in her resignation letter to the Inspector General of Police or rendered an unqualified apology to Ghanaians, especially families of the kidnapped girls.
In the view of the pressure groups, Maame Tiwa has broken the solemn Oath of the Police Services and the Constitution to defend and protect lives of Ghanaians as a security officer.
The resignation pressure arose when the CID Boss sought to clarify her earlier pronouncement that the police knows the whereabouts of the three girls and that they would soon reunite with their families.
"We know where the girls are" before urging the families of the three girls to "keep on keeping on," CoP Maame Tiwaa told the media in Accra in April this year.
She added that "It's taken us over three months to even identify where the ladies are, and what we don't want to do is do anything that will jeopardize the safety of that. So we are working very hard. All the stakeholders who are supposed to be on board are on board and hopefully, the girls will be brought back safe and sound."
After a month and following public outburst over her comments, the CID Boss again came out and sought to clarify her earlier comment indicating that Ghanaians misunderstood her earlier comments.
She added that her statement was intended to give families of the girls some hope.
But many of the civil society organizations in the likes of IMANI Ghana, Centre for Victims of Injustice,( CenVI,GH), Christian Council and the Women'sWing of the opposition National Democratic Congress ( NDC) are calling on the CID Boss to either resign or publicly apologise to the people of Ghana for the deception.
They are of the view that Maame Tiwa has since demonstrated her level of incompetence and therefore must resign as CID Boss or completely from the police services.
A former General Secretary of the Christian Council of Ghana, Dr Kwabena Opuni Frimpong said, the boss goofed and must at least apologise to the families of the three missing Takoradi girls as well as Ghanaians in general.
"She (COP Maame Tiwaa Addo-Danquah) must know that people are hurt and it is not as simple as 'oh you didn't understand me'," when she was categorical about the location of the girls. That was English Language [she spoke], it is not Greek…so coming back to say 'you didn't understand me' is neither here nor there," he said.
The NDC National Women'sOrganizer, Dr Hanna Louisa Bissiw has also called on CoP MaameTiwa to do the needful and resign for misleading the general public.