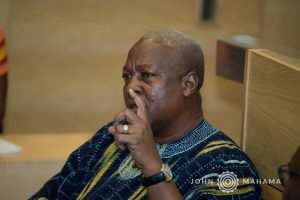 Former President John Mahama is certain that the NCA closure of pro-opposition radio stations; Radio Gold and Radio XYZ, was politically motivated.
"There are more than 300 radio stations in Ghana. Why those two, definitely there were political reasons behind the closure of those stations and so it is unfortunate," Mr Mahama remarked at the Oxford Sa'īd Business Centre.
The National Democratic Congress flagbearer stressed that the National Communications Authority (NCA) should have done its best to avoid closure of stations."The role of a regulator is to build, not to destroy. So if they haven't renewed their licenses, it is your duty to remind them you haven't renewed your licenses and eventually you must even give them notices and give them a deadline."
If notice had been given, Mr. Mahama said the closures, which have been criticised by observers like the Media Foundation for West Africa (MFWA), "would be understandable."
"The President has prided himself on being a human rights campaigner and I don't think things like this should be happening under his watch," he said.