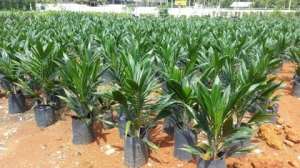 The Denkyembour District Assembly in the Eastern region with Akyem Akwatia as its capital is supporting the agenda of agriculture development across the district.
The assembly is distributing maize, rice and oil palm seedlings to farmers and encouraging those interested in the cultivation and the expansion of their farms.
The District Chief Executive Mr. Seth Birikorang at a first ordinary general meeting at the assembly said the assembly has distributed 625 bags of rice and maize seeds for farmers at a subsidized price and available in retail shops across the district for farmers to purchase.
The district assembly in collaboration with the Mineral Commission is expected to supply 200,000 oil palm seedlings to farmers in Akwatia and its environs and the farmers are to be given an amount of GHC 150.00 per acre of the farm for maintenance every year. And apart from the collaboration from the Mineral Commission, the district assembly has also nursed 30 000 oil palm seedlings to be distributed to the farmers across the district by the end of May.
He said the government in its quest to support the advancement of agriculture in Ghana has presented 12 motorbikes to the district department of agriculture to facilitate their work for farmers to improve agriculture productivity.
The DCE added that the district assembly is determined to expand the production of oil palm and become a major processor of palm oil in the country.
He noted that the oil palm seedlings to be distributed to the farmers is line with the government of Ghana's flagship programme "Planting for Export and Development" and this will ensure the set-up of factory in the area and create jobs for the indigenes.