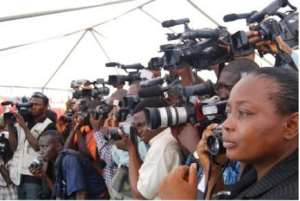 Give me hope that stands on strong pillars and not hope that sleeps till eternity, says this author.
zzzzzz
She didn't lie, she simply gave Ghanaians false hope. Virtually, she issued a blank cheque to the families of the three Takoradi kidnapped girls.
She knew it was wrong.
You don't play with people's hearts, especially those deemed traumatized.
She knows that when you build castles in the air you don't get to sleep in them. However, she ignored all that, in the false hope that the victim's families could cope.
How long and to what extent must they hold their hearts in their mouths?
Indeed, we are all hoping for the safe return of these girls. But it's a tightrope hope. Very thin hope.
Is it bad to be hopeful?
Not at all..but I loathe hope that's built on false pretense. So, don't tell me the lizards would fly tomorrow when you know, I know those tiny reptiles don't have wings or are wingless.
Nevertheless, on Tuesday 2 April, just a day after April Fools' Day CID Boss Maame Tiwaa Addo Danquah literally fooled all Ghanaians.
It was Spring. Every animate object seemed to be springing up. The flowers were blossoming and Eno Tiwaa was springing up to address a press conference.
She was supposed to set the records straight-- that's what she said on that Tuesday. But it turned out she muddied the waters rather.
For instance, the Wembly Pub story was full of mess. That story told by her was headless. And it didn't have a tail too. It was a disaster!
I can tell you this, Eno Tiwaa, you've chosen a wrong turf. Dancing with pen-pushers on a slippery slope isn't a good idea because you might end up losing traction.
And that's exactly what's playing out now.
The dawn is already gone. The pack of lies has been unpacked and the rickety hope bridge appears to be crumbling.
Who made the turf messy?
I know it's you and not the media. You've made the turf so messy. And it seems no matter how hard you try to explain yourself the mess gets messier.
So stop shifting the gears.
Did you really say the media misconstrued your statement? Was that a yes or no? I heard you clear your throat. What exactly did you say?
I said: "We knew where the girls were and they are safe...very soon they will be brought back home."
I want you to set the records straight once more. Do you still maintain that you've found the girls? If so would you blame the media for stating what you put on record?
Remember, that comment made on April 2, has since triggered calls for your resignation.
I don't wish you that. But if you feel the heat is too much for you leave the stage.
After all, you've done your part--good or bad posterity will judge you.
Madam Hope goes to Atinka
Over the weekend Maame Tiwaa had her day, not in court but once again with the media.
She was on Atinka TV - a local network based in Accra
What's her message for Ghanaians?
" We came out to inform the public that we knew whereabouts of the girls in order to give their families hope and encourage them as well. Also, to let them know that we are not sleeping on the matter only that I cannot give timelines."
Based on your words Eno Tiwaa I don't think It is fair to say that the media misconstrued you.
Maybe you didn't mean hope. Maybe you meant empathy. Perhaps, you chose the wrong platform to send your hope message.
Maybe that could have been done through visitation to the troubled families residence.
Hope is good. But not false hope.
"False hope is a terrible thing if it's the thing keeping you alive you'll be dead by dawn," says Charlie Rae.
Psychological trauma
"What is the proper police protocol for handling a case like this?" a psychologist had quizzed.
Mr. Nortey Dua, a clinical psychologist noted that the families of the three kidnapped girls are 'suffering from system-induced trauma'.
Mr. Nortey Duah told a local TV network in Accra that:,"The system that is supposed to provide help to the affected families is the same system that is actually harming them."
"I can identify with the trauma that the families are going through," he said.
On what kind of help the family requires he said: "The family needs feedback. It helps them to cope despite their dire situation. The family needs some form of closure," he prescribed.
The girls – from separate families – were taken from various locations in the town since last year and nothing has been heard about their whereabouts.
Priscilla Blessing Bentum, 21, was the first to be taken in August 2018. The student left home for choir practice but never returned. Her worried father reported her disappearance to the police 24 hours later. It is now known that she was abducted at Kansaworodo, a suburb of Takoradi, an oil-rich town.
Four months later, Ruth Love Quayeson also disappeared.
The 18-year-old took a cab ride from her home in Diabene to the Butumagyedu Junction and never returned.
Priscilla Mantebea Koranchie, 15, was last seen on December 21, 2018. She told her younger siblings she was taking a walk to a nearby town, Nkroful and since then no one has heard from her.
Meanwhile, the mother of hope has reassured Ghanaians and families of the girls that the security service will not relent on its efforts to retrieve and present them to their families alive.
She continued that retrieving and presenting the girls to their families was her topmost priority and therefore will not sleep on the matter till the girls are presented to their family.
"I have not slept about the issue of the kidnaped girls, my officers and I are doing whatever we've to do to bring them back.
As at now, one of the things that will bring me joy is to hold the hands of the three girls and present them to their families and Ghanaians as a whole. That is my topmost priority," she said.
Background
It will be recalled, that COP Tiwaa Addo-Danquah addressing journalists at a press conference on Tuesday, April, 2nd 2019, said the CID knew the whereabouts of the girls but will not disclose it for their safety.
She also stated that It had taken them over three months to identify where the girls were, and will not do anything to jeopardize their safety, but rather, work hard in collaboration with stakeholders to bring back the girls.