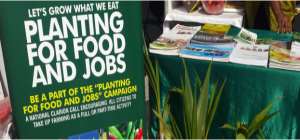 The Kwahu East district department of agriculture in the Eastern region has recorded a reduced patronage of the government of Ghana flagship programme Planting for Food and Jobs according to the district agriculture management unit.
Speaking with the media the District Director of the Department of Agriculture Mr. Isaac Mensah who confirmed the happenings said the reduction in patronage was due to the failure of the farmers to repay for their debts owe to the programme in the 2017 cropping season.
He explained that the programme in 2017 recorded a beneficiary farmers of 1800 in the district but the number reduced to 1152 in the 2018 cropping season with a difference of 648 farmers opting out and has affected the performance of the programme. He continue that in the last cropping season his outfit supplied seeds of maize, tomatoes and onion seedlings to the farmers and were expected to cover an areas of 1200 hactares for maize, 8 hactares of tomatoes, 1 hactares for onion to support the programme.
The department is intended to introduce pepper and cabbage and distribute its viable seeds to the farmers to support the programme performance in the district. The soil is fertile across the district and can support the crops we are introducing – he added.
He said the government supplied 14.5 metric tonnes of NPK and 40 metric tonnes of Urea for farmers in the district at a subsidized rate to aid in the soil nutrition management to increase the crop yield.
He pleaded with the farmers indebted to the programme to honour their payments to help it function well and help more farmers to also benefit from.
Reporter: Abass Iddrisu.
AgricToday Newsonline.
+233246631963.