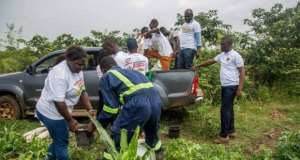 The Kwahu East District Department of Agriculture is making the lead in the implementation of government of Ghana flagship programme Rearing for Food and Jobs (RFJ) under the Planting for Food and Jobs (PFJ) policy which seek to encourage the production of livestock and other domestic animal rearing by farmers and the teeming unemployed youth and to create a sustainable source of income and wealth and also boost the agricultural sector of Ghana to contribute significantly to the advancement of the Ghanaian economy.
The District Director of the Department of Agriculture of the Kwahu East in Kwahu Abetifi, Mr. Isaac Mensah explain to the media that his outfit is registering the first batch of twenty (20) farmers who will be given a parent stock of piggery and cockerels to aid in the implementation of the programme. These batch of farmers would be given the needed skills and techniques in the management of the parent stock to enable produce enough for the other farmers who will be enrolled in the programme after the full implementation.
He exploit the teeming unemployed youth in the district to embrace the various flagship programme in the agriculture sector roll-out by the government of Ghana to create jobs for themselves and their families. He is this viewed encourage the youth in every across the district to welcome the Rearing for Food and Jobs programme and participate when fully implemented later this year.
The beneficiaries of the programme in the district would benefit from an improved and balance feed, veterinary service and other modern techniques animal husbandry at a subsidized cost from the department and these would help boost the income status of the indigenes of the district. My outfit is ready and available to roll-out the proramme successfully and would provide the needed assistant to all farmers equally and build their capacities to deliver and make the programme as success for the future continuity – Mr. Isaac Mensah assured.
Kwahu East District is one of the major agricultural growing areas of the Eastern region and it boast of the fertility of the soil and also good for all agriculture (farming) and agro related business activities.
Reporter: Abass Iddrisu.
AgricToday Newsonline.
+233246631963.