Work On 54Km Jasikan-Dodo Pepesu Eastern Corridor Road Begins In July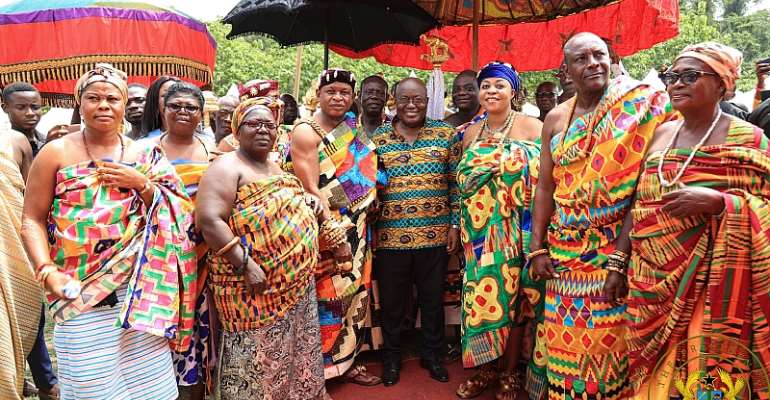 Work on the 54 kilometre Jasikan to Dodo Pepesu stretch of the Eastern Corridor Road will commence from the third quarter of 2019, that is from July.
This was announced by the President Akufo-Addo on Tuesday, during a durbar at Jasikan held in his honor, as part of his visit to the Oti Region.
According to him, an amount of $45 million has been earmarked, under the phase 1 projects of the $2 billion Government of Ghana-Sinohydro Master Project Agreement, for the construction of the Jasikan to Dodo Pepesu road.
He, therefore, assured residents of Jasikan they will not lack, in terms of development, in the aftermath of the creation of the Oti Region.
"We are going to make sure that there is an even spread of infrastructural facilities in the region. Every part of Oti will have their fair share of infrastructural development," he said.
Ex-President Mahama in 2016, when the NDC was in power, is recalled to have stated President Akufo-Addo slept during his 5-day tour in the Western Region, the reason he didn't see the numerous road projects in the region.
This was after Akufo-Addo was reported to have stated during his campaign tour of the region that roads in the region are bad and have not seen any face-lift under the NDC administration.
Recounting the Mahama's statement, the President said "I stated, at the time, that, wherever I have been to, I never saw these so-called unprecedented infrastructural projects he (Mahama) claimed he had done. He (Mahama) responded by telling me that I was asleep, the reason why I hadn't seen these projects.
"However, there has not been a single durbar across the country where I have been where the issue of the poor road network has been raised by the Chiefs and people," he added.
The President further advised political leaders to be true to Ghanaians and added that lies, inaccuracies, and misinterpretation should be the hallmark of political leaders.
President Akufo-Addo began his six-day working visit of the newly created Oti, North East, and Savanna Regions today.
Still in the Oti region, President Akufo-Addo will on Wednesday, May 15, will conduct an inspection of the progress of work on the Nkwanta - Dambai road at Nkwanta, visit the proposed site for Regional Coordinating Council at Dambai the regional capital, and attend a durbar of the Chiefs and people of Krachi in the Krachi/Nchumuru constituencies.