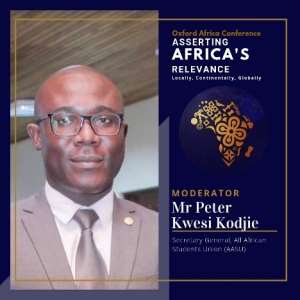 The Oxford University Africa Society and the 2019 Oxford Africa Conference Team, in a joint invitation, have requested the presence of the Secretary General of the All Africa Students Union (AASU), Mr. Peter Kwasi Kodjie for the 2019 Oxford Africa Conference, which is scheduled to take place at the University of Oxford from 17th – 18th May, 2019.
In response to the invitation, Mr. Kodjie left Accra yesterday 13th May 2019 for Oxford, UK.
Mr. Kodjie is expected to take part in a panel discussion themed: "The Role of Home and Diaspora African Student Societies in Asserting Africa's Relevance". He is, equally, invite to moderate a panel discussion on "Amandla! Awethu! Social Movements Challenging the Status Quo for Good Governance".
In the invitation addressed to the Secretary General, the Oxford Africa Conference, now in its ninth year, is an annual platform hosted by the Oxford Africa Society to generate renewed action and new thinking about Africa's involvement and impact across all disciplines- politics, business, arts, science and technology – and connects intergenerational leaders from around the globe to shape the continent's future.
The invitation letter, further, expressed that the Conference is widely recognised and is an influential platform for the speakers at the conference. In the recent past, speakers including Dr. Donald Kaberuka (7th President of the African Development Bank), H.E Amina Mohammed (Deputy Secretary–General of the United Nations) and H.E Nana Addo Dankwa Akufo–Addo (President of the Republic of Ghana) have been keen contributors and advocates to this programme.
The AASU Secretary General is accompanied by Ms Angel Wariri Mbuthia, the Secretary for Gender and International Relations of AASU.
Ansumana B. Bojang
Secretary for Press and Information
AASU-Secretariat