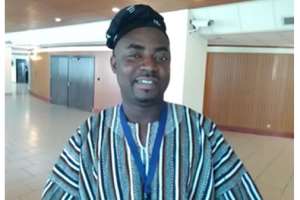 Hon Mohammed Abdul-Aziz, MP Mion
Member of Parliament for Mion in the Northern Region, Mohammed Abdul-Aziz, has berated President Akufo-Addo led government over the current economic hardships, state insecurity and joblessness making life unbearable for Ghanaians.
He pointed out that Ghanaians were tired of the present New Patriotic Party (NPP) -led administration, saying that the party leader and President Akufo-Addo failed in his promises to fight corruption and fix the nation's economy.
"In fact President Nana-Akufo Addo is very smart when it's come to politics, how to promise and deceive the electorate, but administratively, he is disastrous, he is disastrous, such that forgetting three years, he has not been able to successfully prosecute the alleged corrupt officials," Hon Aziz said in a Newspaper review on GHOne TV Tuesday Morning.
He said, there is sensational feelings in town which suggest that Nana Akufo Addo and his NPP-led government cannot deceive Ghanaians again with fake lofty promises to fight corruption, stressing, "they have lost it all."
The lawmaker stressed that President Akufo-Addo made political capital out of Martin Amidu sour relations with the NDC and President John Mahama, thinking that Amidu utterance on the perceived corruption on his own party would translate into cases to prosecute, but two years down the lane, Amidu and the NPP are still battling as to which corrupt officer to be prosecuted.
The Mion MP added that, there are so many corruption scandals that have rocked the NPP and Akufo-Addo led government and if Amidu is looking for people to be prosecuted, he should not go far especially within the two years of NPP administration.
He cited the moviepina and BOST contaminated fuel saga, KelvinGVG, Ghana Cylinder Company, Cash for Seat, among others where the President himself unilaterally cleared them of any wrongdoing.
The NDC MP argued that, if President Akufo Addo was mindful of fighting corruption, he should have fast track all the corruption allegations against his appointees to the Special Prosecutor office and not sit in his office and cleared them of any wrongdoing, stating, " Is that how we fight corruption?"
He stressed that Martin Amidu who admitted that his numerous corruption articles leveled against the NDC and former President. John Mahama were mere perception has put the NPP in a tight corner.
According to him, this has compelled the NPP with the desperate attempt to force some NDC appointees into the list of corrupt officers to be investigated by Amidu.
President Akufo Addo and the NPP, Aziz said deliberately starved the Office of Special Prosecutor with resources to disabled Amidu from biting with the fear that Amidu would go after them first.
"Honestly, Ghanaians are fed up with this government and its fake promises. The people cannot be fooled any longer, because, they have tested Akufo Addo and found out he has failed in all facets of governance in the country," the Mion Legislator emphasised.
But reacting to the Mion MP allegation, a Deputy Minister for Communication and MP for Awutu Senya West, Mr George Nayen Andah said Mr Aziz statements were misleading and asked him to retract.
According to him, some of the allegations of corruption especially with regards to KelvinGVG was dealt with by Parliament and proven to be a clean contract and therefore wondered why the Mion MP could conclude on such disparaging statement.
He also dismissed the allegation that the Office of the Special Prosecution is starved with resources to operate, pointing out that, " Mr Martin Amidu office as far as I am aware, has been equipped with the necessary logistics and staff to operate."
He expressed the believed that very soon Ghanaians would hear the list of cases being prosecuted in court by Mr Amidu, stating, " I strongly believed Mr Martin Amidu will not disappoint the President ."