Mr President,
I bring you greetings from Mamprugu and the entire North East region. We are excited that this week, you will be taking time off your very busy schedule to pay us a visit. That is very remarkable of you if we take into consideration the fact that it will be the third time you have visited since you became President. Mr President, the people in this area have been accustomed to seeing the Head of State only in election years; and even then, they fly over us in military helicopters. Amazingly, despite the fact that you are advanced in age than your predecessor, you have been the most accessible, most daring and most friendly leader in my lifetime of not less than 30 years. You don't visit us in election years with massive military apparatus; you come like the humble leader that you are using our roads, which your government has since improved upon.
Your Excellency, I can understand why you feel no trepidation about visiting us. Each time you come, you bring us good news and return with a bag full of our problems. We challenge you with our numerous appeals for development and you have proven worthy of the challenges. Mr President, the last time you visited, our topmost request was for you to carve the North East region out of the vast Northern region to facilitate development in the area. With speed that we least expected, that has materialized and even with a new district on top (Yunyoo-Nasuan).
Mr President, since you ascended to the highest office of President of the Republic, our perception of politicians has changed. We used to see politicians as untrustworthy people who can do anything just for the sake of power, including debauchery and the promising of freebies. Sir, I believe by now it has dawned on you that the rate at which you are fulfilling your campaign promises with urgency perplexes even some of your most ardent followers including myself. We have always believed in you and in your vision for this country. We never believed that you are a different breed of politician that has the prosperity of this country at heart with an unrivalled propensity to fulfill his campaign promises. Mr President, although I campaigned for you and touted your flagship Free SHS policy, I never believed or at least thought that you will take the bull by the horns and implement it just months after taking office and after inheriting a broken economy. This is to tell you, Sir, that the people of the North East region appreciate your determination to educate the children of this country by eliminating the affordability barrier. Virtually every household in this region has benefited from your life-saving pro-poor policies.
Mr President, your actions and determination inspires us to reach for the skies and not get too comfortable in our little corners. I couldn't have asked for more from my leader. I recalled hesitating for some moments calling Hon. Solomon Boar to consult him on an urgent issue that needed his attention because of the odd hour. Sir, When I finally gathered the courage and called him, he answered immediately and intervened to solve the problem which could have developed into a big one had he not intervened at that moment. Later, I jovially asked him why a respected and hardworking minister like him was not sleeping at that time of the night. His answer was both telling and inspiring. I keep reflecting over it every now and then. He said "Simon, the President who appointed me and is advanced in age than me doesn't sleep at this time. He is most likely still in his office discussing issues of development and general wellbeing of Ghanaians with some ministers, other appointees or development partners. I can't let Mr President down by sleeping at this time". Mr President, thank you for instilling discipline and patriotism in your ministers and by extension Ghanaians.
Mr Commander in Chief, when you finally arrive in Nalerigu the North East regional capital, please take some time and drive round all the major roads. Mr President, you will realize that they have all been tarred. We have no one to thank but you, for listening to our appeals and finding lasting solutions to them. Similar road projects are underway in Gambaga and Walewale. In case you happen to still be in the neighborhoods of Walewale, Gambaga and Nalerigu at night, Mr President, I can assume you may be lost for a moment where you are because of the modern street lights that adorn the streets of these beautiful towns. Mr. President, all is your work ooo. As for the massive water projects, the mini stadium in Walewale, the modern irrigation project at Yagaba and other projects dotted everywhere in this new region by your government, I will leave them to those who are interested in compiling the NPP version of the NDC 'Green Book' to research on.
Your Excellency, the people of Mamprugu especially are forever indebted to you for the faith, confidence and trust you have in your number two during your days in opposition and even more now in government. You have not only always spoken highly of him, but demonstrated it by the key role he is playing in your government as head of the Economic Management Team. Mr. President, just like most Ghanaians we adore Alhaji Dr. Mahamudu Bawumia a lot. He is our eye and we have you to thank for 'discovering', nurturing and giving him space to operate. Without you, there wouldn't be Walewale Adam Smith (a description we so much love since it's an admission of the genius Dr Bawumia is in Economics). In other regimes, we were only considered fit for injury time ministerial or deputy ministerial positions. Sir, although we still ask for more appointments, we cannot say that the North East region is not fairly represented in your government. The iron lady of northern politics and the minister you have entrusted the responsibility of fulfilling one of your major campaign promise of electing Metropolitan, Municipal and District Chief Executives is one of us. She is revered here for the massive developments she has brought to the region as exemplified by the two Community Senior High Schools you will be commissioning on your tour.
Mr President, when you are finally in the North East region and you see the youth running towards you, they are probably NABCO recruits or youth your government has employed in the public sector or created opportunities for them in the private sector for which they are probably coming to kiss your feet.
Mr President, the people of Chereponi and Yunyoo have a particular concern which they asked me to convey to you. They will be grateful if you could get sons and daughters from their districts and appoint them to be part of your government. They feel left out in your appointments although they admit you haven't forgotten about them. This is a major worry to these two constituencies since their non-representation in your appointments so far could send a wrong message and threaten the party at the constituency level. As a listening president, I know you will deal with this plea with the urgency it deserves.
Mr President, the people of the North East region have asked me to also inform you that they have launched an operation for you to remain in power beyond 2021. The operation termed Operation 6/6 is geared towards winning all the six constituencies of the North East region for the NPP as a sign of appreciation for all the commitment you have put into creating and developing the region.
Finally, Your Excellency, on a personal note, I will like to entreat you to remain focused in building a Ghana beyond aid. We have a vile opposition willing to go to throw decency to the dogs just to get at you. You have our support so keep delivering and let them keep talking. You may not need artist's impressions of projects in a so-called green book to sell your message. Your work is visible everywhere and when the time comes, they will speak for you.
I will write to you again after our extraordinary delegates' conference to elect regional executives. Until then, I say welcome to the North East region in advance.
Simon Suayam
Deputy Secretary Aspirant
North East region.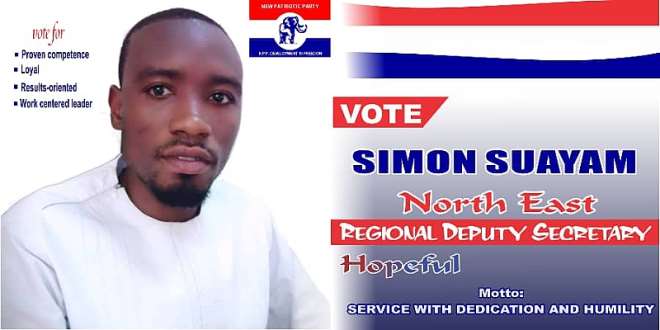 Simon Suayam