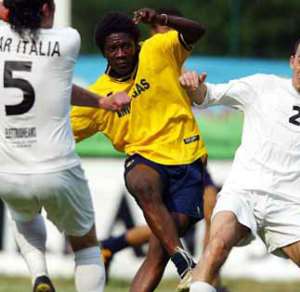 Accra, Jan 12, GNA - Asamaoh Gyan, Black Stars injured striker on Wednesday underwent a successful surgery to his right knee medial menisci tear suffered last week at training in Tunisia.
The one hour-long surgery that repaired the torn ligament would keep the Modena striker off the field for a maximum of 30 days.
The 22-year old striker last Friday left the Stars camp in Tunis for Italy, after his Club doctors and the Ghanaian technical team told the Thursday and have been ruled out of the Africa's most glamorous soccer showpiece, the nations Cup where he would have been making his debut. Dr. Martin Engmann, the Stars doctor earlier declared that Gyan would be outpaced in his race with time.
Gyan limped off at training on Thursday raising the number of influential casualties of the Black Stars to three. Chelsea's Michael Essien and Sulley Ali Muntari of Udinese are the other casualties expected to miss the Ghanaians' quest to annex the trophy for the fifth time.
While Gyan, one of the team's highest scorers in both the World Cup and Nations Cup qualifiers picked the injury in the Stars' camp the two others suffered their calamity while on duty with their clubs. Coach Djukovic had earlier been forced to invite two of his standby players, Baba Adamu Amando and Louis Agyeman as replacement for Essien and Muntari.
The trio are influential members of the team that is housed alongside Nigeria, Senegal and Zimbabwe at the initial stages of the tournament.
The injuries are considered as a huge set back to the Serbian's tactics ahead of the tourney, which would see both Cameroon and host Egypt all yearning for a fifth victory.
It remains unclear who would be replacing Gyan who pundits have tipped to cause the desired trouble to opponents. Gyan however expressed optimism about the Stars chances when he spoke with the GNA Sports from Italy on Thursday.
"My colleagues out there are equally hungry and I'm convinced they have what it takes to do all of us proud minus my services". The Udinese left footer Muntari would have also been making a Nations' Cup debut. 12 Jan. 06