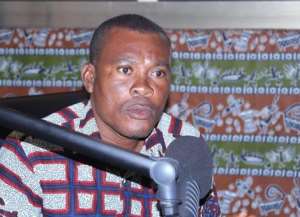 Dela Edem
A member of the National Democratic Congress (NDC) communication team, Dela Edem has debunked rumors that their flagbearer, John Dramani Mahama said the election 2016 was rigged.
A Monday edition of the Daily Guide newspaper reported that the former President while speaking at a seminar held at the Oxford University Business School organized in collaboration with the African Studies Centre and the Oxford Africa Business Alliance, said the election which led to his defeat in 2016 was rigged.
According to the report, Mr. Mahama narrated that the rigging process was facilitated through "the use of IT in results transmission and possibility of hacking."
However, believes the words of the former President has been distorted by the Daily Guide.
In an interview on UTV Late night news on Monday, he explained that the former President only sought to find out how far the EC had gone with their investigation and what compromised their IT system during the 2016 elections.
He, however, accused the ruling New Patriotic Party (NPP) of being behind the report published by the pro-NPP newspaper, Daily Guide.
"Daily Guide belongs to the NPP Chairman so I am not surprised were this false report is coming from. This is a plot by the NPP to tarnish our flagbearers image," he said.
Below is the exact statement made by Ex-President Mahama at the Seminar:
During the last Presidential elections in Ghana, the Electoral Commission directed its staff to stop using the electronic result transmission to communicate the result to the tallying center because the system had been compromised.
The result had to, therefore, be tallied manually leading to attendant tension in the delay of the announcement of the final result.
As I speak I am not aware that the electoral commission has carried out an investigation into what compromised their IT system and even if they have we the political parties have not been briefed on what caused the corruption of the system.