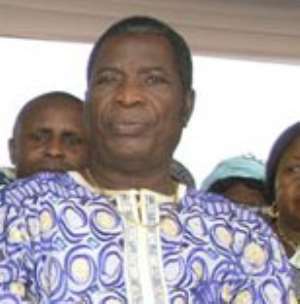 The Leader and the Acting National Chairman of the Great Consolidated Popular Party (GCPP), Dan Lartey, says the issues that emanated from the congresses of both the National Democratic Congress (NDC) and the New Patriotic Party (NPP) provide a platform for the electorate to decide which direction they should vote in the next general elections.
Condemning the reported violence that rocked the NDC and the NPP in their just ended congresses, he said the chances are bright for a third force to take over the affairs of the country.
Citing the revelations of alleged kickbacks made by the ex-chairman of the NPP, Harona Esseku, Mr. Lartey said, "The revelations of kickbacks which is prevalent in the NPP and resulted in a situation that Mr. Esseku could not attend the national congress of his party, opens doors for the electorate to decide whether to renew their mandate or not. All these have come to the public domain to be resolved."
He pointed out further that, "With what is happening within the NPP and the NDC at this stage, a third force can take advantage. I mean a shift of paradigm. A change in policy direction with a personality who would be able to use his local or domestic resources to build the nation."
Speaking to The Chronicle in an interview on Wednesday, 'Mr. Domestication' who prides high that his party was a force to reckon with in the next elections, diagnosed the saga of the NDC and called on its Founder to adjust himself to the tenets of democracy, which are prevailing within all the political parties.
"He must adjust himself to the democratic tendencies. Each member of the party should be able to tolerate the dissenting views, but not to antagonize anybody. The very antagonism that made the NDC congress was improper for the consumption of the country. Other reasons do not hold," he said.
Mr. Lartey pledged his commitment to make his GCPP an attractive party towards the 2008 elections, underscoring that the misfortunes of the NDC would affect his party in a positive sense.
Mr. Lartey took a swipe at the government's budget and said it provided no hope to Ghanaians and pledged the preparedness of the GCPP to redeem the nation from its quagmire of poverty and economic woes.