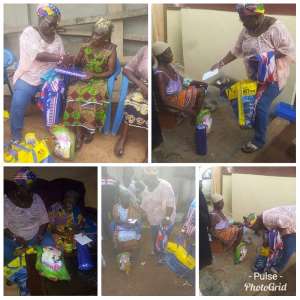 The Bono Regional Women's Organiser of the ruling New Patriotic Party ( NPP), Mrs. Dorothy Ama Amponsah on Sunday 12th May, 2019, visited parts of the region to celebrate Mother's day with old women and widows who have served the party and the Nation in diverse ways.
The visit was to give Regional Women's Organiser the opportunity to have first hand information and to enable her interact with them.
Some of the towns visited include;
New Town, Sunyani Zongo and Nkwaaben ,all in Sunyani East Constituency where she donated several items ranging from food stuffs, assorted drinks,fabrics and money to Old women.
Mrs. Dorothy Ama Amponsah, also donated same items when she visited old women at Odumasi, Fiapre, Dumesuaa and Nsuatre all in the Sunyani West Constituency.
At Brekum East Constituency, a happy and highly elated Eno Mary and her colleagues expressed their joy and appreciations to Mrs. Ama Amponsah for remembering their contributions towards the development of the party and pledged their continues support and loyalty for the NPP party.
"We will always behind you and the party even though we are now weak", Eno Mary pledged.
Mrs. Dorothy Ama Amponsah in an interview with Pulsenewsgh.com, promised her continues support whenever she is called upon.
She called on old women and widows to continue with their support for the NPP government and pray for President Nana Addo Dankwa Akufo-Addo.
The Regional Women's Organizer and her entourage ended their Mother's day celebration visit at Wamfie in the Dormaa East Constituency of the Bono region,where old women received items ranging from food stuffs, assorted drinks,fabrics etc.
She was accompanied by Women's Organizers at the various constituencies in the region.