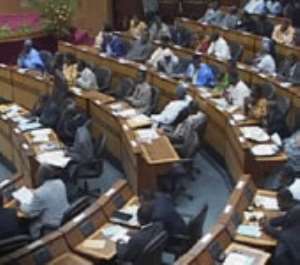 1)The Samuel Ofosu Ampofo Saga:
It is amazing that the National Democratic Congress (NDC), has allowed itself to be embroiled in needless controversy, over its chairperson, Samuel Ofosu Ampofo's foolishness, because it appears that none of its bigwigs can see the big-picture: The need for a new kind of politics anchored on the twin-bedrocks of honesty and principle.
If they did, instead of backing him, they would have been resolute, and firmly asked Samuel Ofosu Ampofo to step down from his position. Full stop. Would that not have spared them the indignity of solid individuals backing a man whom they know perfectly well, said all the things heard in that leaked secret recording? Ghanaians expect better from those who aspire to lead their country. Instead of playing to the gallery, Samuel Ofosu Ampofo should do the decent thing and resign. Now. Haaba.
2) The Counter-Productive Closure Of Radio Gold and Radio XYZ:
President Akufo-Addo Addo's should sack all the daft, nit-picking-back-stabbers in his administration, who idly stood by, and allowed regulators to go ahead and close down known-NDC-favouring media entities, Radio Gold and Radio XYZ, instead of bending over backwards to enable them become compliant, and thus continue broadcasting. Democracy is about media pluramism and tolerance of divergent viewpoints, is it not? Haaba.
What has been gained by their closure, except bad global publicity for President Akufo-Addo - now seen by some as a hypocritical leader running an intolerant regime (a patent falsehood for those who know his political battles with military regimes fighting for freedom for Ghanaians, over the decades)?
Was it worth fostering such an unfortunate perception about our liberal and peaceful society, in media circles globally? Was whatever gains those morons thought had been gained, by the closure of those known pro-NDC media houses worth such worldwide PR negativity and opprobrium? Haaba. Clots.
Why risk the New Patriotic Party (NPP), being seen by independent-minded and discerning Ghanaians, as a party running a regime that is intolerant of critical voices, when elections are due in November 2020? And who would have imagined that a genius like Hon. Mustafa Hamid, would one day come to describe Manessah Azure, as an attention-seeking freak? Incredible. And as for Hon. Oppong Nkrumah, what a narcissistic jerk he has turned out to be. So full of himself. And in love with the sound of his voice. Pathetic.
3) How President Mills Could Have Halted Corruption In Ghana's Oil Sector:
Shortly after being sworn into office as President, a number of foreign. oil company executives called on President Mills, and offered him a bribe: secret stakes in oil blocks off Ghana's shores. If President Mills had caused their arrest, prosecution and imprisonment, instead of complaining to the U.S. ambassador about their arrogant and disrespectful behaviour, Ghana's oil industry wouldn't have become the opaque and corruption-riddled sector of our national economy, it is today.
It is sad to think that Kosmos Energy Ghana wasn't even a registered company, at the time when it needed to be, legally, yet, its local collaborators, the E.O. Group, eventually were able to obtain U.S.$370 million when they sold their stake in the Jubilee field, to Tullow Oil.
To prevent the same thing happening again, at a time when the nation desperately needs funds to sustain the free high school education initiative, President Akufo-Addo must insist that the rip-off being attempted by Aker Energy, is swiftly dealt with by the Economic and Organised Crime Office (EOCO), and handed over to Hon. Martin Amidu for prosecution.
The more responsible sections of the Ghanaian media must study the oil agreements covering the Rumaila oil fields of Iraq, and demand that that selfsame model ought be used for all Ghana's oil agreeements. Full stop. Above all, those in President Akufo-Addo's regime, who conspired to get Parliament to approve that egregious rip-off, must be prosecuted for causing financial loss to Ghana. The president must personally see to that - because he needs to demonstrate to the world that he will not tolerate such chicanery in his government, under any circumstances. Full stop.