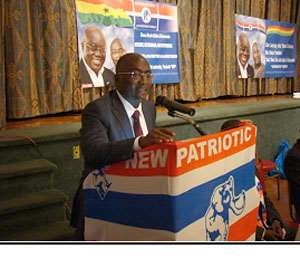 That Ghana faces an environmental crisis of apocalyptic proportions, is beyond doubt. The evidence is all around us. The harm being done to Mother Nature is spreading across the entire landmass of our nation's territory.
Egregious poisoning of soils, streams, rivers, groundwater; and unprecedented loss of biodiversity (resulting from the massive destruction of forest-belt ecosystems across vast swathes of the Ghanaian countryside), is occurring before our very eyes.
Across Ghana, powerful, greedy and well-connected individuals, and private-sector entities, responsible for those environmental crimes (which amount to crimes against humanity), are ruining the very basis for assuring a relatively good quality of life, for both present, and unborn generations of our people. Yet, they continue to act with total impunity.
Meanwhile, instead of focusing on collaborating to fashion effective initiatives to halt the wanton environmental degradation going on, feckless, reckless, verbally-aggressive, and amoral politicians, are toying with the destiny of our country, busy playing mind-games with each other. Pity.
For all those who care about our nation's stability, and constantly seek the welfare of ordinary people, for that reason, this blog recommends reading, 'Upheaval', the latest book by the brilliant American geographer, Jared Diamond, of UCLA fame.
Luckily, an interview in the New Yorker Magazine, in which David Wallace-Wells recently interviewed Jared Diamond, about Upheaval, has just been published.
Today, we have culled and are posting that interview, in the hope that it will spark an interest in Jared Diamond's work amongst well-educated Ghanaians. Above all, Upheaval ought to be required reading for: Ghana's vice-president, Dr. Bawumia; senior minister Hon.Osafo Marfo; and finance minister Hon. Ken Ofori Attah. Hmmmm, Oman Ghana eyeasem o. Asem kesie ebeba debi ankasa.