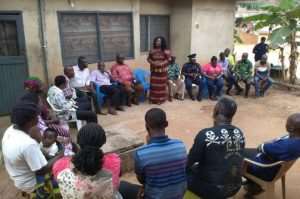 "I cannot disclose much but we are working on it. I made those comments because I wanted to assure people that we were working hard and we had made progress. But people misunderstood me however I cannot give any timelines saying we will find them today or tomorrow."
The Director-General of the Criminal Investigations Department, (CID) COP Maame Yaa Tiwaa Addo-Danquah said the comments were to give further assurances to the anxious families of the victims.
"Sometimes in communicating something, the way you want to get it across, people may not have understood the way you wanted to say it," she said on Atinka Tv.
On April 2, the CID explicitly told the public the Criminal Investigations Department (CID) of the Ghana Police Service had identified the location of the three girls .
"It has taken us over three months to even identify where the ladies are and what we don't want to do is to do anything that will jeopardize the safety of that," COP Addo-Danquah said at the time.
Now, the CID boss is being measured in her comments saying she cannot give timelines on her outfits rescue efforts.
The girls, Ruth Quayson, Priscilla Blessing Bentum and Priscilla Koranchie are believed to have been kidnapped between August 2018 and December 2018.
The main suspect in the kidnapping, Sam Udoetuk Wills was before a court after he escaped from jail in December 2018 following his first arrest.
He received an 18-month jail sentence for his escape but no legal proceedings have started over his alleged involvement in the kidnapping.
The suspect was jailed on charges of escaping lawful custody and destroying property.