Experiencing 2019 World Bank's IFC YEP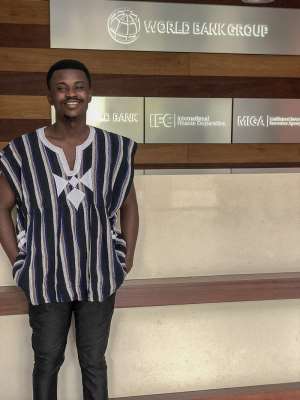 Barimah Amoaning Samuel
I have never been luckier to join other influential young people in media from Kenya, Ivory Coast, Guinea and Ghana, in the IFC youth engagement program in Accra.
Being a young Ghanaian digital media start up CEO and Blogger, making the cut for the youth engagement finalists was definitely a golden opportunity for me to learn, network and build upon my career.
After the week long acquisition of pragmatic knowledge through series of activities and affairs ranging from Infrastructural and Natural Resources firms in Africa, Youth entrepreneurship, Social media, reportage point views to mention but a few, devoid of exaggeration, I can boldly say that this was one of my most rewarding and informative weeks in my digital media Career.
We worked on several projects in groups, moments I enjoyed greatly. cooperative learning and engagement with colleagues from other nationals increased individual achievement and created more opportunities for critical thinking and intellectual collaborations.
Though challenging, it was a week I never would have wished coming to an end, a program I will personally recommend to any young African in modern media relations. We trained by exceptional trainers who took us through all we should know about I.N.R companies and appropriate form and means of reportage using modern media platforms.
ABOUT THE IFC YOUTH ENGAGEMENT PROGRAM
The training is an opportunity for the organization to bring together a group of young media professionals from across the continent, and together tackle the issues of how infrastructure and natural resource companies can better engage young people, through new media.
The objective of the week is to give them exposure and deepen their skills on how large infrastructure, Oil, Gas and Mining companies can use social media to engage with young people.
It is to help advance the work they are already doing in this field and to equip them with new skills that can position them to do other things including being a resource to any company or entity seeking to ideas on how to better engage with young people.
By Barimah Amoaning Samuel