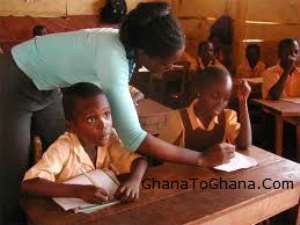 Early this year, the issue of caning being banned in basic schools escalated very well. With this directive, almost all teacher unions gave strong warnings to their members to just go to the class as teachers but not as monsters as the MOE and GES perceive them to be.
Although, teachers adhered to the above directive, what the cherished son of MOE thus GES told parents to deal ruthlessly with any teacher who canes their ward seems to have sunk deep into the minds of people as young men have started killing teachers in their homes even though there haven't been any issues of canning or whatsoever.
Few days ago, a headmaster in the East Akim district has been murdered in cold blood by his own past students for warning them not to deficate in school and in his garden. His reward was a brutal assault from these boys, taking away his life in the process because of the fruit of deviance which had grown in these boys. As usual, there is a deafening silence on this matter by the GES, not even a word of condolence to the bereaved family.
MOE and GES were warned to come again with the enforcement of this initiative by some men of God, with strong quotation from the bible that says "SPARE THE ROD AND SPOIL THE CHILD". Some eminent radio and TV personalities and other Ghanaians are at the level they are today, thanks to the hot morning canes during mental lessons.
These warnings from different persons in authority to GES and its father MOE fell on deaf ears and that has given the general public authority over the teachers to say and do all sort of barbaric things to them because they have been betrayed by their own people who are supposed to shield and protect them in executing their duties towards national development through education.
I, therefore, appeal to the MOE and GES to reconsider their decision on the reintroduction of caning in schools for teachers to help raise noble and productive young people who can help push our dear nation higher when our current elderly people are no more. If nothing is done about the reintroduction of caning in schools, we can only expect more assaults and killings of teachers as the case of the headmaster would just be a tip of the iceberg.