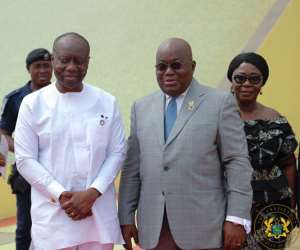 President Nana Addo with Finance Minister Ken Ofori-Atta
The Finance Minister for Ghana, Honorable Ken Ofori-Atta has reiterated President Nana Addo Dankwa Akufo-Addo effort in addressing the unemployment situation in the country in order to provide a meaningful life to Ghanaians.
The New Patriotic Party (NPP) government since the assumption into office in 2016 has taken it upon itself to create more jobs in the country.
In a bid to achieve that, they have rolled out several policies including the planting for food and jobs, Youth in afforestation, 1 district 1 factory and many others to create an avenue for people to gain employment and be able to earn something at the end of every month, Finance Minister has said.
Delivering his address as a guest speaker at an economic forum organized on Friday, May 10, 2019, by the Danquah Institute on the theme 'Bridging the Gap Between the Formal and Informal Economy, the Role of Domestic Revenue Mobilization in an Era of Ghana Beyond Aid', Honorable Ken Ofori-Atta stressed that his Excellency Nana Addo is determined to dramatically change the living standards of Ghanaians.
According to him, they have been forced to burn the candle at night with the hope that they can particularly achieve that aim.
"Government recognizes that Ghanaians are impatient to see their living standards changed dramatically for the better. And so, therefore, believe me, this is what keeps the President up every night. How to pay the bills and still find the fiscal state to invest in areas that create jobs and generate income", Ken Ofori-Atta said.
He added, "If he can't sleep. Then I can't sleep because he will call. But as he wakes up to each day and goes down his knees to pray, his cup of hope is replenished".
The Finance Minister further commended Ghanaians for being patient and resolute with the current government to help repair the broken economy they inherited from the erstwhile Mahama administration.