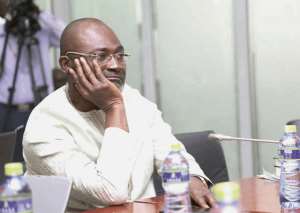 Free spirited politician, Kennedy Agyepong who is the Member of Parliament (MP) for Assin Central Constituency in the Central Region of Ghana has emphatically stated that his daughters are fools.
Speaking at a gathering in a video sighted by Modernghana on social media, the firebrand New Patriotic Party (NPP) politician bemoaned how foolish his daughters are saying "they were born into riches and have no experience of the sufferings of life yet their mum wouldn't allow me to tell her daughters that they are fools".
According to him, the kids on the streets are even smarter than her daughters because they have gathered a lot of experience in the streets through their hustling unlike his daughters who are exposed to wealth.
He however encouraged rich parents to stop pampering their children and impact wisdom and "home sense" into their lives because that serve as a guide to their kids when they are no more.
The lawmaker lamented that most rich mothers shower their children with sweetness and only good stuffs without teaching them how to make life for themselves or even court a stable relationship.
Sharing his sufferings of life to the public he indicated that people only know him for his wealth yet they have no idea as to how he suffered for it saying "I slept on the Varendah for years and I wish my children will learn how to make it without depending on me".
Mr. Agyapong advised the youth to be very ambitious and should always yearn for success because he can now boast of over one hundred and 128 houses after all his toils and hustles in life.
Watch the Video Below...