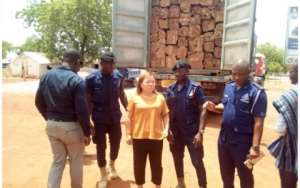 The unexplained disappearance of Ms Huang has made a contemptuous mockery of the Ghanaian laws which sparked controversies on social media with many connecting the point to realisation that her escape was probably assisted by the Akufo-Addo Government itself.
The development comes in the wake of the infamous Osafo Maafo scandal, in which the Senior Minister had revealed to some Ghanaians in the Diaspora that Aisha Huang, another Chinese expatriate who was on trial over illegal mining, had later been freed by the Government because of a $2billion infrastructure deal with the Chinese company, Sinohydro.
As pronounced by the Senior Minister Osafo Maafo, because of the barter with China's Sinohydro Corporation, in which the Chinese are providing Ghana with $2billion worth of infrastructure, in exchange for access to mine the country's bauxite and other mineral reserves, the Government made the choice to let Aisha Huang go scot free so as to not rattle the Sinohydro deal.
This Osafo Marfo theory raised interesting angle to people's suspicion over Helena Huang's purported bail jump.
What is making the public suspicion very strong is that the woman appears to bear the same surname with Aisha Huang of the 'galamsey' infamy.
Helena Huang had been arrested in the Northern region with two truckloads of rosewood, whose harvesting is under ban.
Soon after her arrest, she was processed by the Police and charged with illegally possessing banned forestry products.
Per Police procedure, Ms Huang was duly granted bail, however, while the police expected her to appear before court to answer the charge, it suddenly turned out that the woman has gone missing.