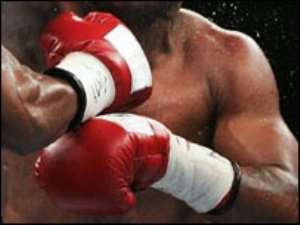 A COACH from Ghana who has become a local legend in a Northside boxing club is pleading to be allowed stay in Ireland.Abdul Hussein spent an anxious Christmas waiting for a Department of Justice decision on his application for asylum. He is still living in fear, waiting for government officials to make a decision on his future.
Forbidden to work due to his asylum seeker status, Abdul spends his time as a voluntary boxing coach at St Saviour's Amateur Boxing Club on Dorset Street, where he has become a legend among the 50 young lads he teaches.
Fellow coaches at the club, Tommy Ahern and Martin Power, are backing his plea to be allowed remain in Ireland.
Abdul, who came to Ireland five years ago, was due to be deported shortly before Christmas, but his solicitor appealed on humanitarian grounds. Abdul claims his uncle was murdered in Ghana and his life was put under threat after he helped police in the investigation.
"If I go back to Ghana, I'll be in danger," he told Northside People. "The people who killed my uncle were threatening me and my family because I was helping with the investigation – that's why I had to leave Ghana."
The same uncle was a boxer who inspired Abdul to take up the sport.
"I couldn't train when I was travelling and hiding," he said. "It was frustrating. So when I came to Dublin, I started asking around where I could do boxing.
"Then some people told me about the gym on Dorset Street and I met people there who told me I could join the club. Now I'm a full member."
He recently lost the semi-finals of the National Championships – which he says may have had something to do with his insecurity over his right to remain in Ireland.
"It's very hard for me because of what's going on," he said. He is also worried about his mother, brothers and sisters who are still in Ghana.
"I'm especially worried about my mother. I'd like to bring her to Ireland." Abdul hasn't seen his family since he was 15, when his parents arranged for him to be sent to Germany.
He spent several difficult months in hostels in Frankfurt and Düsseldorf before he was threatened with deportation.
"It was tough." he told Northside People.
However, he was unofficially employed in a warehouse so was able to earn enough to get a train across Europe and the Eurostar to London - where yet again he was threatened with deportation.
"I applied to stay but they said because I first arrived in Germany, I had to go back there."
Ireland was the next port of call – but the first time he arrived on the ferry, he was turned away.
He sailed back to Britain and later flew into Dublin, where he was met by a friend who took him to a hostel on Harcourt Street.
He has lived in a variety of hostels since he arrived, and now lives alone in a studio flat off Dorset Street on rent allowance pending the Justice Department's decision.
He has an Irish girlfriend and says he would "love to stay here". "Ireland is a very welcoming place for me because I've been able to settle down," he told Northside People.
"The kids in the boxing club are great. They listen to me." Abdul says he would only return voluntarily to Ghana to see his family if it becomes safe for him to do so.