'Burger' Grabbed With Fake Euros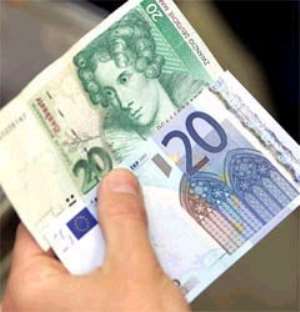 The Forged Euros CHARLES Asare, 24, has been arrested by the Police Criminal Investigations Department for allegedly transacting in fake currency.
Briefing the Times in Accra yesterday a Police CID source said that the suspect, who resides in Spain arrived in Ghana on December 18. with 27,500 Euros in 50 and 100 euro denominations for sale for genuine notes.
The source said that four days after his arrival, the suspect contacted some people to assist him to execute the deal for a commission.
Last Wednesday, January 4, the suspect allegedly contracted Kofi Asirifi of the Sakumono Estate, but Asirifi realising the danger involved informed the police who feigned interest in the deal, collaborated with the informant and arranged a meeting with the suspect.
The police source said that Asare, unaware of the fact that he was being trapped, turned out for the meeting and was subsequently arrested by the police officers.
A search on him revealed 800 fake Euros in his pocket.
Asare admitted the offence and claimed that the fake currency was given to him by a friend, Smith Alberto, a Spanish, for a business for a fee.