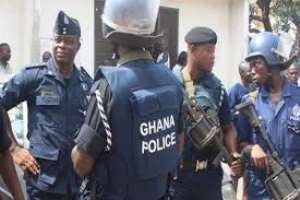 The Public Affairs officer of the Ghana Police Service, ASP Simon Tenku has called on residents of Krokohwe near Amasaman, who deserted their homes following the assault of the police officer in the area, to return to their homes.
According to him, they are not criminalizing the whole town, but rather they are after those who perpetrated the unlawful act.
He made the call at a time he and his team had embarked on a confidence-building exercise in the area and found out several of the residents had fled the town after the incident.
"We want to use this medium to tell the male residents who have fled to come back especially if you know you did not take part in the assault of the Police officer.
"We are not in anyway criminalizing the whole town but we are looking for those who perpetrated that unlawful act. An attack on any police officer is a threat to the authority of the nation and all of us must combine forces to nip such acts in the bud," he said.
This comes at the back of a viral video which captured a policeman being dehumanized by residents of Amasaman, a suburb of Accra.
Over 20 people on Monday were arrested in connection with the incident.
They were arrested at various locations in the Ga West Municipality in the Greater Accra Region.