DCOP Kofi Boakye Deserves IGP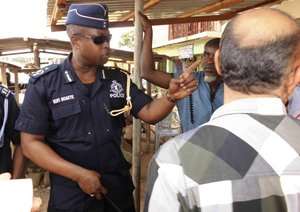 Ghana Police Service (GPS) has suffered a lot in the hands of unprofessional and incompetent IGPs all in the name of partisan politics. This has been a gory threat to our security as citizens and has registered a distrust in the police service in the hearts of the citizens
The tenure of a stooge IGP is about ending on 14th August 2019(source: facebook Adom 106.3)Ghana deserves better, the integrity of the GPS is at stake. Let's not compromise on quality for quantity.
To restore the police service to normalcy, let's not compromise on Dcop Kofi Boakye(commander 1) for any other.
Let's not muddy our security with politics. Commander 1 has proven beyond reasonable doubt that he can deliver. His few years in Kumasi alone froze criminal activities in the city.
Let the listening government listen and the people with the men hear.!!!
Make commander 1 the IGP and Takoradi will celebrate the come back of our beloved kidnapped girls,Volta region will eat a "humbled pie" with her main tree (Ghana).
I choose to stress more on the citizens' security for it's the reason for our being. The insecurity arising from the looming kidnapping, the use of motorcycles for vices the rampant assault of our security personnel among others will be eulogized.
Let's choose a man who rises above partisan politics and upholds the anthem and motto of the police service, a man who treats the musician illicitly smoking "gbama" (weed) like a commoner and the commoner like he deserves when the law catches up with them.
Let's not compromise on Commander 1.
#His Excellency Nana Addo
#GhanaDeservesBetter.
*DCOP KOFI BOAKYE FOR IGP*
Samuel Wudana
Political science,
UEW.