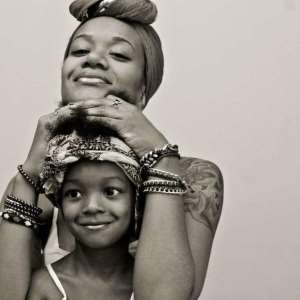 If I was asked to choose an earthly representative of God, I would waste no time choosing Mrs Christiana Amofah, my mother. It is undisputable that mothers play key roles in the nurturing of their children especially within our African setting.
The extra care taken by pregnant women in their daily activities such as the food they eat and how they walk are all tailored towards the safety of the child unborn. That mothers contribute to about 70% of their children's upbringing in terms of their breastfeeding, bathing, health and the general comfort of their children shows how indispensable mothers are in the African community. It was therefore not a mere coincidence that a former American President, Woodrow Wilson in 1914 set aside the second Sunday in May to celebrate mothers and has gained prominence in our modern day all over the world.
Many years back, Mothers Day was benevolently observed by Ghanaians. Even the rebellious and prodigal son or daughter would go home, say a hi to Mum, shower her with gifts and settle their differences. Others who could not go home due to work schedules and geographical barriers would send their parcels for delivery to their mothers.
The celebration of our dear mothers has taken a different paradigm since the advent of social media where pictures and videos of mothers are posted and used as display pictures, spicing up the celebration.
Unfortunately, most of our mother do not even get the opportunity to see their pictures set as profile pictures by their children simply because their phones are not in good shape. Some of our mothers do not even have smart phones which support social media activities. Don't our mothers deserve the best?
It is common in Ghana to see mothers wallowing in abject poverty while their children for whom she sacrificed, live in opulence in big cities. They reject their mothers because a "prophet" has accused their mothers of witchcraft. These children, in a bid to avoid insults and being board for neglecting their mothers would have to pretend to show love by displaying pictures of their moms on social media as though all is well.
If you believe your mother is a witch, thank her that she didn't kill you with her witchcraft, instead decided to et you live. Cast out the witchcraft, don't cast out your mother. An Akan adage goes, " a forest that has saved you should not be described as a small forest ". Even if your mother neglected you and you have made it now, still thank her, perhaps her neglect might have propelled you to where you are.
Mothers are worthy of celebration. Let them feel your presence, show them true love and do something big for them. There should be reciprocity of love, they fed us, clothed us, defended us, thought of us and pampered us then. It is our turn to feed them, cloth them, defend them, think of them and pamper them.
And if you think your mother is not important in your life, wait till she dies. Happy Mothers Day to all mothers.