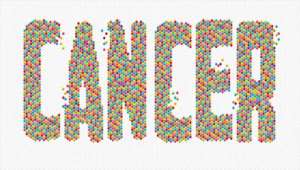 Cancer is the second leading cause of death globally and is responsible for approximately 9.6million death in 2018. Breast Cancer is the most frequently diagnosed cancer in women worldwide. Breast cancer is the cancer that forms in the cells of the breast. It usually occurs when the cells of the breast begin to grow abnormally.It was estimated that 1671149 new cases of breast cancer were identified and 521907 cases of death occurred due to breast cancer in the world in 2012. Aside from this estimation, breast cancer incidence in developed countries is higher, while relative mortality to greatest in less developed countries. It is reported that Ghana has recorded 4,645 breast cancer cases from January to September in this year as surveyed by GLOBOCAN a cancer surveillance database managed by the International Association of Cancer Registries (IARC). Within 2,900 cases diagnosed annually, prevalence rate of approximately 17% and one in eight women diagnosed from dying from it, breast cancer has become the second leading cause of cancer death in Ghana.
This situation, according to the President of Breast Care International (BCI), Dr. Mrs. Beatrice Wiafe Addai is very alarming and urged all stakeholders to join the fight against the disease which she is surrounded by a lot of myth and misconceptions.
With no other evidence to prove the threatening nature of breast cancer, the above data on breast cancer in Ghana indicates that, it is one of the leading causes of death in women in this country. Many women have lost their lives due to breast cancer.
Recently, two hardworking and influential women in my community were diagnosed of breast cancer. Upon investigation and interaction, they knew nothing about the disease and had no idea about the symptoms too. Shortly after diagnosis, they died because the breast cancer had spread to other side of the body. Should we continue to loose people because of breast cancer? Should people continue to suffer from the effects of breast cancer? Should we wait till all our precious ladies/women die of breast cancer? Certainly no!!!! Therefore what should be done?
Considering the above said, most women with breast cancer have little or no knowledge about the disease due to lack of awareness creation about the disease and therefore, attribute the disease to superstition and seek healing and assistance from prayer camps, herbalist or resort to self-medication rather than reporting early to the hospital. Plans for the control and prevention of breast cancer must, therefore, be of high priority for health policy and the general public as well. Educating women/people should be more concern to help reduce mortality of breast cancer. It is, therefore, necessary to increase awareness of the risk factors, the early detection and the ways to prevent getting breast cancer.
As it stands now, early detection of breast cancer remains the key for managing and controlling the disease. The first way for early detection is to be aware of potential symptoms of the breast cancer. Some symptoms include unusual nipple tenderness, a lump in/near the breast, swelling of the breast particularly one side, nipple discharges, etc. Another way for early detection is self-examination of the breast monthly. This helps you to know any changes/abnormalities that have started in the breast. The last most effective detection weapon is regularly scheduled mammogram screening & clinical breast exam. This helps the doctor see any changes and start treatment as fast as possible.
Educating people is also a surest way to control the spread of diseases in people. Education about the disease should be done extensively. Breast cancer has shown for some years to be prevalent in people who live in urban areas than those who reside in semi-urban and rural areas. Education about the disease should be done more in the rural communities because most delayed reported cases of breast cancer emerge from these communities. Nevertheless, education should be done extensively everywhere to make people aware of the disease, its controlling and its prevention People should be educated on the risk factors such as age, genetics, body weight, alcoholic consumption, and smoking and radiation exposure.
Health workers must be given more training and expertise to care for breast cancer patient. Also the community-based health planning and services must be well equipped with adequate resources in order to be able to effectively and properly respond to breast cancer cases they receive.
Apart from early detection and education, we can also prevent breast cancer by the following ways; Limiting the amount of alcohol intake, avoiding smoking, controlling our weight, exercise, eating healthy, going for regular screening. Studies show that when these ways are followed it reduces the chance of getting breast cancer. People diagnosed of breast cancer should not be worried because breast cancer can be cured if detected early. Therefore, once diagnosed, with breast cancer one needs to follow all the treatment of the doctor.
In conclusion, breast cancer cases happen in women under 40, it can happen at any age and it's important to be aware of the risk factors regardless of our age. It should be of note that, everyone can get it but more common to people who are in their premenopausal period and in women as well. The excellent news is that breast cancer can be prevented and treated. All we have to do is to engage in a good healthy lifestyle and avoid bad lifestyle such as alcoholic intake and smoking as they determine our health and increase our risk of getting breast cancer.
Breast cancer is finding its way to be a leading health problem in Ghana and there is a need to prevent and control it to save the people of our dear mother Ghana. Together as a nation, we can do it.
LONG LIVE GHANA!!!!!!!!!!!!!
ACKNOWLEDGMENT.
DR. KINGSLEY PREKO.
DR.T. DERRICK.
WRITTEN BY;RUTH YIRENKYI
PHYSICIAN ASSISTANT STUDIES.
LEVEL 200
UNIVERSITY OF CAPE COAST