CID Case: An Attempt To Cover-Up NIA Criminality—Joshua Akamba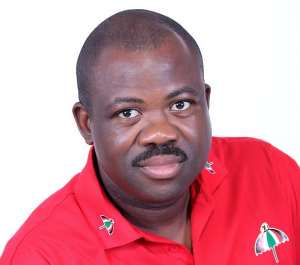 Joshua Akamba
The Organizer of the National Democratic Congress(NDC), Joshua Akamba has accused the ruling government of conniving with the Criminal Investigation Department (CID) to get their National Chairman arrested.
According to him, the move is a plot by the NPP-led government which is in bed with the police to divert the attention of Ghanaians from the fresh malpractices surfacing from the ongoing Ghana card registration exercise.
In an interview on Accra based Adom FM morning show hosted by Captain Smart and monitored by ModernGhana, he said "the NPP thinking about how far to go with the fraud they are embarking on in the Ghana card registration exercise are deliberately using the police in an attempt to cover up the NIA issues, by inviting our National Chairman Ofosu Ampofo and accusing him of kidnapping."
This follows after Criminal Investigations Department of the Ghana Police Service had invited NDC National Chairman, Samuel Ofosu Ampofo for questioning in connection with kidnappings and market fires.
The invitation was sent at a time the media had reported that some officers of the NIA have been arrested for allegedly registering people at a house in Awudome, near the St Theresa Catholic Church in Accra.
However, Joshua Akamba believes it is a plot by the NPP to divert the attention of the media and Ghanaians from the malpractices happening in the Ghana card exercise in order for them (NPP) to rig in the 2020 National elections.
He argued that their National Chairman is already in court following the issue of the alleged leaked tape and sees no need for another invitation from the CID.
"They are doing this because of election 2020 because they know they have lost it all...Now they want to use the innocent police to frustrate us," he said.
He further stated that they will not allow the NPP to frustrate them and further called on all party members and well-meaning Ghanaians to resist what he terms as oppressors rule from the NPP.