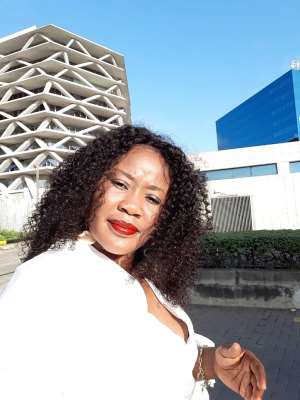 Helen Adwoa Ntoso
Democracy which is defined variously by different actors is a universal concept which implies a system of government by the whole population where the citizens exercise power by voting in periodically free and fair elections. This goes without saying that, elections are a central feature of democracy. For elections to express the will of the electorate, they must be 'free and fair'.
For elections to be 'Free', it means that all those entitled to vote have the right to be registered and to vote and must be free to make their choice. In Ghana, every citizen over the age of 18 is entitled to vote. An election is considered 'free' when you can decide whether or not to vote and vote freely for the candidate or party of your choice without fear or intimidation. A 'free' election is also one where you are confident that who you vote for remains your secret. 'Fair' means that all registered political parties have an equal right to contest the elections, campaign for voter support and hold meetings and rallies. This gives them a fair chance to convince voters to vote for them. A fair election is also one in which all voters have an equal opportunity to register, where all votes are counted, and where the announced results reflect the actual vote totals.
Does this basic principal tenets of democratic, free and fair elections apply to the NDC Parliamentary seat in Krachi West Constituency? This paper puts the Member of Parliament for Krachi West constituency to the litmus test and why we think she is involved in false starts.
Helen Adwoa Ntoso, since annexing the parliamentary seat of the Krachi West Constituency in 2012 after a fierce contest between herself and Hon. Perry Ofosu, had since engaged in shady politicking that disadvantages her critics and opponents in any internal contests so that she runs on the ticket of the National Democratic Congress –NDC, unopposed. The first victim of her political assassination is Believer, a staunch comrade who was surreptitiously transferred to Ho for just contesting her choice of candidate, Moses Ponye, for the District Chief Executive position after the 2012 general elections. Again, between 2015 and 2016, she spearheaded the transfer of Hon. Emmanuel Jalulah from Kete-Krachi to Konongo Odumase after several frustrations to get him to rescind his decision to contest her for the NDC parliamentary candidacy. Infuriated by the happenings, Jalulah Emmanuel resigned from the party to contest as an independent candidate and garnered over 5000 votes over and above the New Patriotic Part –NPP candidate, Douglas Osei Nti, in the constituency. Her new target is no one else but Magdalene Nnmeleh also known as 'Baby Understanding' who is nursing interest in contesting the internal primaries come August for the NDC parliamentary candidacy. Is it not surprising that after Hon. Helen Ntoso, stated on Radio XYZ on Wednesday 1stmay, 2019, to the effect that if 'Baby' must contest her in the primaries then she must resign from her post only for Magdalene Nnemeleh (Baby) to receive a letter on 3rd May, 2019, reposting her with immediate effect from the Adentan Municipality, Accra, to a remote community in the Western Region twelve hours drive from Tarkoradi? Could that just have been a coincidence or there was an invisible Helen Adjoa Ntoso's hand in this posting? Whatever the situation might be, we want to assure the good people of the Krachi West Constituency and members of the NDC in particular, that even if Baby must sacrifice her job, she willing and ready to do so salvage dwindling fortunes of the NDC in the constituency for the betterment of all.
It is worthy of note that, her overexploitation is not limited to only her political opponents but goes to affect even the academe who raises one or two opinions contrary to hers in the constituency. For instance Helen Ntoso has been responsible for the transfer of key figures from Krachi Senior High School who opposed her politicization of the school. Notable among these personalities is Mr. Charles Collins Boafo who hitherto had served as the Head of Department of English at the school and Assistant Headmaster in charge of Academics to head a basic school at Dambai. She has also been responsible for the transfer of the current DCE, Hon. Osei Nti Douglas, to Kukuom in the then Brong Ahafo Region, Mr. Justice Kwabena Adade, to Oti Sectech, Mr. Nkrumah Pius (Morale), to Borai D.A Basic school and Iddrisu Alhassan (Openin) who were handling Physics, Economics/Business Accounting, and Government/Social Studies respectively. Little wonder why the academic fortunes of the school had since taken a nosedive?
If democracy according to Andrew Heywood is "a system of government that serves the interest of the people regardless of their participation in political life." Why must people who are availing themselves to the noble call be victimized to submission? if you cannot make better the lives of the people who have bestowed on you political power, do not impoverish them and make worse their estate.
Helen, Adjoa Ntoso has just engaged in a false start. If she is confident on winning the primaries and the parliamentary seat on merit why, engage in activities disadvantaging her opponent? Unfortunately, she will not be left off the hook this time round. She will be given a good dose of her own pill and hopefully, be defeated to restore the lost glory to the people of Krachi West Constituency and in particular, member of the great umbrella family.
Forward the NDC!
Long live Krachi West Constituency!
Long live the NDC
Signed:
Communications Director
Friends of Baby for Krachi West NDC Parliamentary Candidate.