Amidu Probes Charles Bissue, Others In Anas Galamsey Video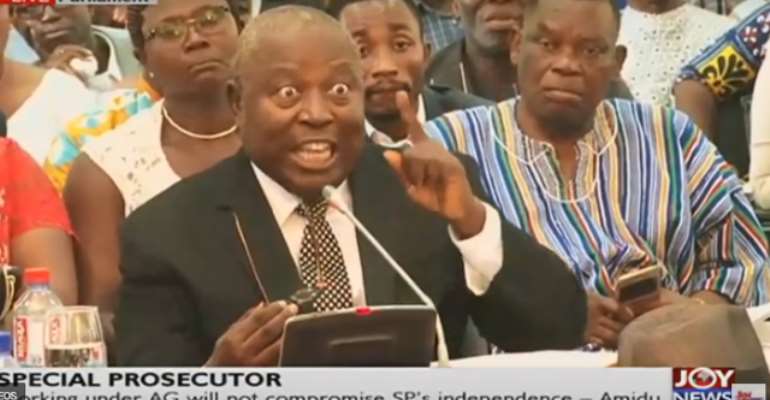 After a barrage of attacks and criticisms over its inertia to investigate and prosecute several obvious cases of corruption in the public space, the Office of the Special Prosecutor headed by Martin Alamisi Amidu has begun to act.
The Office has opened interrogations into alleged criminal activities involving officers who were caught in an Anas Aremeyaw Anas galamsey video aiding illegal mining in the country.
A Presidential staffer and former secretary to the Inter-Ministerial Committee on Illegal Mining, Charles Bissue was the first to face the investigators on Wednesday, May 8, 2019 for the lead role he played in the galamsey activities.
The Anas investigative documentary which was published in February 2019, showed Mr. Charles Bissue allegedly taking bribes to help secure mining licenses without passing through the laid down procedures.
Something he failed to guard given the mandate as secretary to the Inter-Ministerial Committee on Illegal Mining.
After the release of the video, Anas and his TigerEye PI team formally petitioned the office of the Special Prosecutor to probe the matter and deal with persons in the video.
This interrogation by the Office of the Special Prosecutor comes few days after the Communication's Director of the governing party, the New Patriotic Party (NPP) Yaw Boaben Asamoah, chastised the Special Prosecutor, Martin Amidu, for not meeting the expectation of Ghanaians.
Not too long after that public backlash, the Office of the Special Prosecutor announced it will soon publish cases it is working on.
The Board Chairman of the Office of the Special Prosecutor, Linda Ofori Kwafo who revealed that, SECTION 3(3) of the OSP Act 2017 (Act 959) mandates the Office to publish what its work on quarterly basis in at least two daily newspapers with nationwide circulation as well as the website of the Office.
However, pressure is still mounting on the Office of the self-styled citizen vigilante, Martin Amidu to investigate some of the high corruption allegations in the public space particularly, the contaminated fuel scandal at the Bulk Oil Storage and Transport (BOST) facility which is still begging for answers.