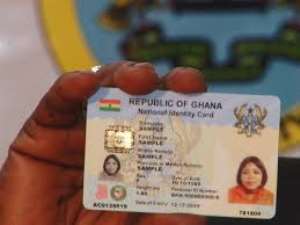 NIA Card
The National Identification Authority (NIA) has stated that it won't shield any of its official caught in any criminality in the ongoing registration exercise.
A statement signed and issued by Head of Corporate Affairs at the NIA, Mr. Francis Palmdeti said: "the Authority will continue to ensure that the information captured into the National Identity Register will be protected from any kind of unauthorized access."
The statement follows after some officers of the NIA were busted for allegedly registering people at a house in Awudome, near the St Theresa Catholic Church in Accra on Tuesday night.
The exposé was carried out by some citizen vigilantes in the area upon a tip-off.
Although the NIA officers managed to escape, their machines were confiscated and a complaint lodged at the Kaneshie Police Station.
Meanwhile, the NIA has confirmed that the equipment found in the private residence belongs to them.
However, they were quick to state that the equipment, which used for capturing personal information of eligible applicants, cannot be used to register and issue cards to applicants.
"Before the Ghana card is issued, a registration official interviews the applicant and assists him or her to fill an application form with the required personal details, an MRW operator then Keys in personal details of the applicant from the completed application form and scans any other additional documents," they added.
Below is the statement: