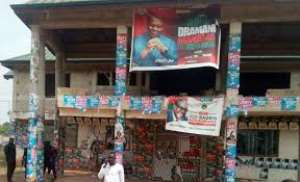 The Ashanti Regional Office of the NDC have fallen apart with the leadership of 'The Hawks' over an allegation that some executives of the militia group have connived against some members of the militia group after the shooting incident.
The three suspects, Dauda Ibrahim, Abdul Ganiyu and Samuel Agyen who are currently facing trial at the Asokwa Circuit Court are not happy with the way they have been neglected by the party after the incident.
They are questioning why the regional party executives suddenly turned their back at them to suffer alone.
These suspects who were granted GHC 100,000 bail with two sureties by the Kumasi High court are known members of "The Hawks", the pro-NDC political vigilante group based in the Ashanti region but claim they have been left to their fate.
In an interview with ModernGhana, a spokesperson for the three, Alhaji Rabiw has warned of dire consequences for the party if the substantive case begins in the next two weeks at the Asokwa Circuit Court because they will have no option but to spill the beans.
He revealed that the Coordinator of the 'The Hawks', which is a recognised group of the party, received an invitation by the Regional Chairman of the party to provide security at the office head of the National Executive meeting at the Kumasi party office on February 18, 2019.
According to him, the executives would have to answer some pertinent questions who among them invited the deceased member to the party office on that day when he and his group are not known members of The Hawks.
"When the substantive case on the issue begins on the 21st of May, some of the regional executives will run away. I am telling you. They will have some answers to give to the court with regard to this issue," he intimated.
Rabiw continued, "So they have to come and tell the court the one who invited this guy and his group to come who are not members of the group. We know everything and we have proof and they have to come and answer for themselves."