TV stations seek Gov't assistance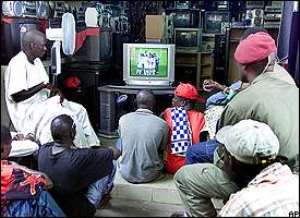 With eleven days to the African Cup of Nations in Egypt, issues over television broadcast rights appear far from settled.
Though the nations three top television stations – GTV, TV3 and Metro TV- are eager to bring the action to sports fans, they are beset with the huge financial burden involved.
Beninois firm, LC 2 Media organization, which has bought the TV rights from the Confederation of African Football-CAF, is demanding 1 million euros from the three Ghanaian TV stations for the broadcast rights.
After two weeks of negotiations, LC 2 Media is only willing to beat down the price to 870,000 euros.
But the TV stations told a local radio station -JoyFM - they could only pay 500,000 euros.
They are counting on assistance from the government to secure the TV rights.
Government has already expressed its readiness to dole out a chunk of the amount to ensure that Ghanaians watch the Black Stars live in Egypt when they tournament kicks off on January 20.
The collaborative effort of government and the three media houses is expected to yield a favourable settlement with LC 2 Media.