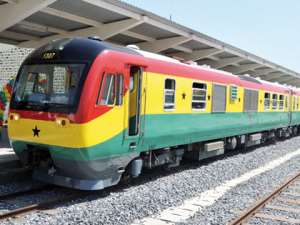 Accra-Tema Train
The Accra-Tema flat train fare has been reduced from GH¢5 to GH¢3.
This was disclosed by the Minister of Railways Development, Mr. Joe Ghartey during a press briefing in Accra on Wednesday.
Explaining what necessitated the reduction, he said the move is to increase patronage of the train service.
"Patronage I must confess could have been better. We have tasked the Railway Company to look at it...They won't look at it in terms of reducing but I agree with you that a flat rate has its own problems. And you must put in a system that allows people to pay different rates for different rides. It is work in progress," he said.
This comes as good news to commuters who patronize the shuttle service.
For the first time, the country's railway line is going beyond the Ashanti regional capital to Paga then all the way to Ouagadougou.
Describing this as historic, Mr Joe Ghartey said "For the first time in the history of the country, we are building at a speed of 160kph and we are using asphalt as the basis for the formation. We are also buying 30 coaches within two years.
"For me, as a nation, we should not reduce everything to NDC and NPP. We are developing this nation for Ghanaians regardless of political persuasion," he added.