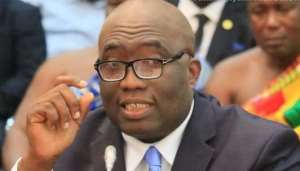 Mr. Joe Ghartey, Railway Minister
Ghanaians have witnessed a transformation in the railway sector within three years under President Akufo-Addo led administration, following the injection of more resources to revive the sector.
Announcing the 95 percent progress of the Rehabilitation of the Achimota-Nsawam rail today, the Minister of Railway Development, Mr Joe Ghartey pleaded with Ghanaians to give the NPP-led government an extra four years in power, in order to witness a modern railway network.
"We are confident that God willing the vision of the President to live a legacy of a modern railway network will be achieved within his time. We are confident that the work we are doing is more significant and at the end of the day if the people of Ghana give us eight years it will be much more than the total amount of work done in the railway sector from 1898 to 2016," he said.
The rehabilitation forms part of governments effort to revamp the railway sector as part of moves to boost transportation in the country.
According to Mr. Joe Ghartey, "Rehabilitation works on the Achimota – Nsawam section of the line is nearing completion, about 95% complete. Test-runs have commenced and the line expected to be re-opened for commercial operations soon."
He also disclosed that GH¢8,000,000 has been allocated in the 2019 budget to extend the rehabilitation works from Nsawam to Koforidua.
The total cost of the project, according to him, is estimated at GH¢134,632,915