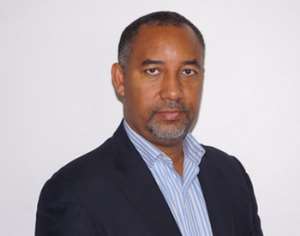 Alex Mould Former Boss of GNPC
Mr. Alex Mould, former Chief Executive of the Ghana National Petroleum Corporation (GNPC) has alleged that the Akufo-Addo government secretly entered into an agreement with Aker Energy to allow it use its preferred vendors in its contracting strategy rather than go through tender.
Ghana's massive oil find at the Deepwater Cape Three Point is under capture by what appears to be an axis of buccaneers, comprising actors in the Akufo-Addo Administration, and foreign collaborators that are suspected to be connected to the Government of Norway.
But Speaking at a public forum by the Caucus For Democratic Governance Ghana (CDG-GH), the former GNPC boss, threw more light on the complex web of connections in the Aker/'AGM and Quad Energy deal.
The forum has also scratched on a dizzying possibility that the axis of buccaneers is not only trying to hit a one-off windfall, but obtain a perpetual stranglehold on Ghana's oil resources in the Deep Water Cape Three Point worth at least $30billion.
"It is alleged that there is some agreement between GoG – either directly or indirectly through the Petroleum Commission – and Aker Energy where Aker, in its $4bn development of the Pecan discovery, will be allowed to use its preferred vendors in its contracting strategy rather than go through the tender process as prescribed by law," he intimated.
If this is so then Aker, being essentially an oil services company, and not a known oil E&P Company, could basically capture most of the lucrative initial contracts in the development of the Pecan field which is estimated to be somewhere close to $4.0bn and completed within 3 years, Mr. Mould added.
Already, there has been revelations that Quad Energy, the local company which recently became Aker's local partner is connected to Finance Minister, Ken Ofori-Atta.
Mr Ofori Atta, owner of the Data Bank Financial services, is business partners with Joseph Babatunde Ampah, who is Vice President at Data Bank.
Mr. Baba Tunde Ampah is also part owner of Quad Energy, which was registered just last month and therefore has no track record whatsoever.
However, in the wake of it becoming a partner of Aker/AGM, the Akufo-Addo Government has also renegotiated a 2013 oil contract with AGM that will strangely reduce Ghana's stake in the Deep Watwer Cape three Point from 43% to 18%.
It is as a result of this scandal still unfurling that Mr Alex Mould has alleged that the Government has secretly enabled Aker Energy, in a complex web of connections, also owns AGM, to cherry-pick its own prescribed vendors in its contracting strategy, without going through tender as prescribed by the law.
The CDG-GH forum also featured Dr. Steve Manteaw, Chairman of the Public Interest and Accountability Committee (PIAC), Franklin Cudjoe, Founder and President of IMANI Ghana and others.
According to him, they have done investigations that proved that AGM Ghana is owned by Aker Energy, and ultimately the Government of Norway, even though there is a thick shroud around the ownership of the company.
"And yet an analysis of the ownership structure of AGM Ghana unveils an attempt to conceal the actual beneficial owners of the company. Our initial analysis shows that AGM is ultimately owned by Aker ASA and the Norwegian Government," Dr Manteaw said.
On Quad Energy, he said, "we learned that the local partner to Aker in the renegotiated contract is a certain Quad Energy. The selection of the local partner, from what we know, did not go through a competitive process. In fact we learn that the company was registered almost concurrently with the initiation of the renegotiation process."
This is the same Quad Energy connected to Finance Minister Ken Ofori-Atta through Baba Tunde Ampah, President of Mr. Ofori-Atta's Data Bank Financial Services.
As things unfurl, it is becoming increasingly apparent that some regime actors, especially Finance Minister, Ken Ofori-Atta, has entered into a collision with the Norwegian companies, Aker and AGM, which are ultimately owned by the Norwegian Government, to capture the huge oil find at Ghana's Cape Three Point.