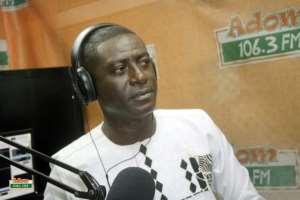 Captain Smart
The governing New Patriotic Party (NPP) is battling a seriously inherent fear that the party may be kicked out of power come 2020, as officials begin to acknowledge the goofs that could cost the Akufo Addo administration second term bid.
The economic hardship under the current regime, coupled with growing disgruntlement among the party's grassroots is an explosive recipe that would haunt the party in 2020, according to straight-talking radio presenter "Captain Smart" who has insider access to the party's hierarchy.
This sentiment was also expressed by NPP Member of Parliament (MP) for Upper Denkyira West, Benjamin Ayeh who was speaking on Peace FM's Kokorokoo Wednesday morning show.
"…It is about time we acknowledge the problems because there is massive disgruntlement on the ground.
"Apathy has set in among party people. It is time the party takes the issue up. We do not have much time. Two out of the four-year mandate has already been squandered," Ayeh said.
He continues, "In spite of all the things the government is doing, we risk eroding that record if we do not do something that will stop the party members from the complaints."
These sentiments tie into a recent angry warning issued by one of the party's loudmouthed fanatics, Hajia Fati.
A very strong Zongo woman who has no respect for anyone except the President accused the top hierarchy of the party for their arrogance and that their attitude towards party boys are potential recipe to make President Akufo-Addo a one-term president.
Hajia Fati subsequently warned that she will curse the top officials of the party, especially the General Secretary John Boadu and Fredy Blay, National Chairman if they scuttle the second-term chances of President Akufo-Addo.
Many political critics pointed out that the so-called transformational policies being touted by the NPP would not be enough to overturn this threatening erosion of its electoral fortunes.
The ruling party has often boasted about its widely hailed Free Senior High School policy as its trump card to enable it to win the next elections, but critics such as Captain Smart sneered at this by citing previously radically similar policies by the John Kufuor-led administration in 2008 that lost to the opposition National Democratic Congress (NDC).
That year, the NPP, outdoored an incredibly functional National Health Insurance Scheme (NHIS), a free maternal care scheme for expectant mothers and several other policies, yet it was defeated during the election due to a complex list of factors, including tough economic times and prevalent reports of corruption in that administration.
Analysts cited similar signs of massive official corruption and harsh economic regime is being experienced in just the first term of President Akufo-Addo and this may spell doom for his second-term bid.
Commentators have also expressed disappointment at President Akufo-Addo for apparently reneging on his campaign promises of tackling corruption and lawlessness.
His decision to set up a Special Prosecutors' Office (SPO) is seen as a mere window-dressing as the Special Prosecutor, Martin Amidu recently raised red flags that the Akufo Addo administration was not showing commitment to the functioning of the SPO by starving it of funds and by officials refusing to cooperate with him on corruption investigations.
The Galamsey fight failure is another area that may also haunt the chances of the current administration, as the government has demonstrated huge failure to curb the illegal mining menace (Galamsey).
Rivers bodies have been destroyed and illegal Chinese miners mostly aided by Ghanaians into this nefarious trade present a constant reminder of the failure of the Galamsey fight which President Akufo Addo promised.
The planting for food and jobs program is also wobbling, as farmers complain of fertilizer meant for free distribution being sold to them, whiles others smuggled into other countries by persons closed to power.