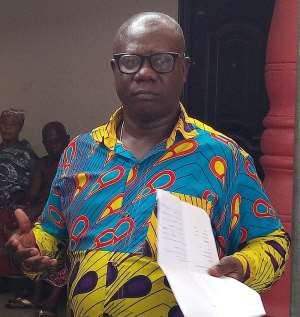 "When it comes to the supply of text books to public schools, this current government deserves lots of commendation for doing exceedingly well in this regard", Dr. Peter Attafuah, the Bono Regional Director of the Ghana Education Service has said.
He also rubbished claims that there have been no textbooks for public basic schools in the country.
According to him, the regional and some district offices of the GES sometimes even find it difficult to get enough space to keep the books.
Dr. Attafuah said, as a result of the review of the curriculum for the schools, new textbooks are being printed for use in the next academic year which will begin in September.
The Regional Director was addressing the Bono regional celebration of this year's Global Action Week for Education held at Fiapre near Sunyani under the theme, "Taking Action to Address Inequalities and Exclusion in Education for the Achievement of SDG 4; - My Education, My Right."
Global Action Week for Education is a worldwide annual advocacy campaign to raise awareness on the importance of education as it usually brings together various stakeholders in the sector to promote good quality education for all.
Dr. Attafuah said the region (formerly Brong Ahafo region) emerged first in last year's regional rankings released by the GES on the performance of Senior High Schools (SHS) in the WASSCE with St. James Seminary and Secondary School at Abesim near Sunyani being adjudged the over-all best performing SHS in West Africa.
He said the Bono region currently has 37 senior high schools with 20 of them running the Double-track system with the remaining 10 maintaining their single-tack status.
He added that the student population in the 20 double-track schools in the region currently stand at 13,646 as against 3,826 in the other ten schools.
The Regional Director however expressed concerns about examination malpractices in some schools in the region and warned all heads of schools and teachers who aid students to perpetrate this act will be severely dealt with when caught.
"Some teachers collect money from their final year students while in some cases, the students rather raise money and give it to their teachers to help them pass their final WASSCE papers during invigilation", he revealed.
Dr. Attafuah said his office was worried about the phenomenon and called for the support of chiefs, opinion leaders and all stakeholders to join hands in fighting it head-on.