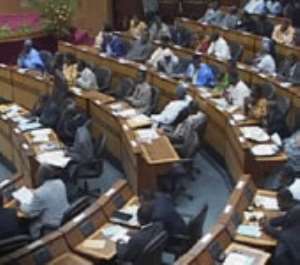 Aker Energy, is a special purpose vehicle created in 2018, by Kjell Inge Røkke, the Norwegian tycoon, who controls the Aker Group (he owns a controlling stake of 66.66% through TRG Holding). It is the entity he is using for his super-lucrative Ghanaian venture. #TheFibbingSod.
In effect, Røkke and his lackeys amongst Ghana's vampire-elites, stand accused of egregious-profiteering, by inflating the development costs of an oil-find off Ghana's shores, by as much as some U.S.$500 million. Hmmmm, eyeasem o.
The question is: Is there a basis for the accusation of fraudulent-dealing, by Røkke and those influential Ghanaians riding on his coat-tails, in the deliberate inflation of the development costs of the massive-gas-find Cape Three Points oil block?
To try and answer that question for readers, we quote Mr. Alex Mould, the former CEO of Ghana's state-owned oil company, the Ghana National Petroleum Corporation (GNPC):
"Aker is now telling us that they have spent $1.2 billion in developing the field, when we know that they only paid $100 million. So, if we approve this $1.2 billion as pre-development cost and we add it to the development cost, Aker is going to make – based on [the] 50 per cent it owns – a windfall profit of almost $500 million for doing nothing.
That means that they paid $100 million, they say they paid $1.2 billion, 50 per cent of it is $600 million, you allow them to put $600 million as cost oil, for the $100 million that they have spent, they'll recoup $500 million on the citizens of this country.
Anybody who understands an iota of finance in this country, and the Finance Minister understands finance, he will not approve such a thing to happen. Anybody who approves this, this is a financial loss to the state, and we should be very careful when we are, as custodians of the state's resources, allowing such things to happen. And it only points to one direction: if anybody approves this, it's either he is useless and doesn't understand the basics of financing or there is state capture". End of quote. Interesting. Very. Ebeeii, Oman Ghana.
This blog's humble advice to the Minority in Parliament: They should contact their colleague MPs in Norway's Parliament, who are left-of-centre politicians, as soon as practicable, to trigger an investigation by the Norwegian authorities (as well as the EU authorities) into the Aker Energy deal in Ghana. Simple.
Incidentally, as we speak, the authorities in Holland and Italy are prosecuting Shell and Eni, over a similar corruption-riddled deal in Nigeria. To use pidgin English phraseology: Who born dog? Who say man no dey? Man dey papaaabi.
The Minority in Parliament should also contact the International Consortium of Investigative Journalists (ICIJ), which will use its Norwegian partners, to investigate the matter thoroughly. The world will then come to know, for sure, all those in this regime, who deliberately set out to defraud the Ghanaian people so brazenly. They must all be prosecuted by the Hon. Martin Amidu, Ghana's Special Prosecutor. And jailed for causing financial loss to Ghana. Case closed. Hmmmmmm Oman Ghana eyeasem o - asem kesie ebeba debi ankasa.