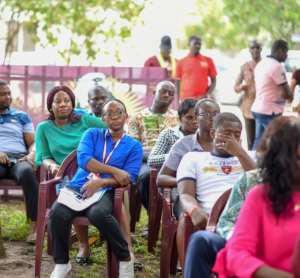 Some section of the media have toured the facility of Accra Brewery Limited (ABL) to uncover the behind the scene operations of the company, the high safety standards and the pletoria of products.
The event, which featured a presentation on the history and success story of ABL also shared some information on Eagle Lager, one of its flagship product and second largest bear brand.
Mr. Raposo, Country Director of ABL mentioned that the event was organised to help media men understand the daily operations and quality parameters their products go through during production.
He added that it was an opportunity to also showcase the Eagle Lager beer.
Ewurafua Addo-Atuah, Head of marketing for ABL, noted that the company which launched the 6.5percent alcohol drink in 2013 in the Volta region is geared towards enhancing the capacity of small scale farmers under the Eagle Farmer Project.
According to her, the project has provided solar mechanized irrigation systems to six communities across the country since its inception in 2015.
The Eagle Lager, which had a price index of less than 90percent and makes it affordable in Ghana is sold in 375ml and 625ml bottles.
She also indicated that the company was considering a product that will help support local farmers by investing in the volume of produce in Africa, hence its decision to opt for ready yield cassava as a key ingredient for producing the Eagle Lager.
"We decided to add another raw material and we settled on maize, currently we use 70% local raw materials in maize for producing Eagle Lager and this is to affirm our continuous effort to reward the hardworking Ghanaians across the country", she added.
Adwoa Adaba Arthur, Director of Legal and Corporate Affairs said the production of Eagle Lager employs approximately 200 farmers and contributes GHC 201 million in GDP through maize and cassava.
Mr. Shaun Raposo commended the government and farmers in general for their continuous support in working with ABL as they remain the best company to comply to all the safety standards.
"We take safety seriously and quality is very important to us, as such we take safety measures everyday to improve the quality and standard of products we provide to Ghanaian," he emphasised.