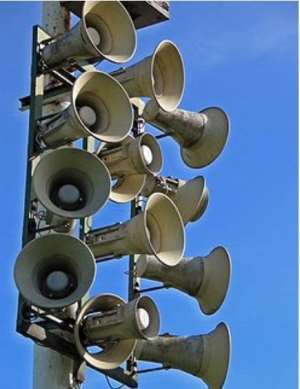 Public Address System is an electric system comprising microphone, amplifier, loudspeakers and related equipment. It increases the apparent volume of human voice, musical instrument or other acoustic sound sources.
Community public Address system came to replace the traditionally tedious gong-gong beating which was used to disseminate information to community members. But now it is used as a tool to extort money from the community members in the name of selling medicine.
One secret of these so-called "Doctors "or "self-imposed prescribers" is to begin with a sermon to gain the attention of the masses. They swiftly proceed to talk about diseases they claim to have knowledge and expertise on but in actual fact, they have little or no clue about these said conditions and diseases. This I believe is an intelligent and an unscrupulous means that certain individuals have resorted to, to earn a living.
Now let us take a look at the activities of these "Doctors". Various forms of products are advertised to these innocent and ignorant community members like soap to any client who complains of having hernia to apply at the site to dissolve the hernia which sounds ridiculous because, hernia, is the protrusion of an organ or tissue out of a body cavity in which it normally lies.
How then can this soap melt this organ? These unsuspecting preys administer the soap until the hernia becomes strangulated leading to necrosis before they seek medical attention.
Client with chronic conditions like hypertension and diabetes are lured by these same "Doctors" into that no condition can ever be chronic after using their so called products. Clinically these conditions are lifelong diseases that can only be managed and not cured. This false information sway these clients from taking their drugs prescribed by the medical officer, defaulting in attending follow up or review visits which leads to complications before they get to the health facility with minimal chances of survival.
Health workers are blamed when they are unable to perform "miracles" in reviving these patients. This has recently destroyed the trust that once existed between the community and the health facility.
Another area of concern is when they talk about family planning being the cause of fibroids which of course is not the case. The cause of fibroid is unknown but there are predisposing factors. The use of contraceptives presents an interesting situation. Studies have shown that fibroids grow when one is exposed to excess oestrogen. Taking contraceptive pills with high level of oestrogen will promote growth of fibroids.
On the other hand, taking progesterone-only or combined contraceptives with low doses of oestrogen may actually shrink the fibroid or reduce the heavy bleeding and pain caused by the fibroid. In practice, these same contraceptives are given to clients who have irregular menstrual cycles to correct their cycles and increase their chances of conceiving. Because of these misconceptions, family planning acceptor rate has decreased drastically which has led to an increase in teenage pregnancy, unsafe abortions and unplanned pregnancies.
In conclusion, both the community leaders and the community health Nurses should scale up their efforts in curtailing the activities of these unscrupulous people through the intensification of health educational programs including the use of recorded health educational jingles.
HELENA APPIAH-KORANKYE
BSc. PHYSICIAN ASSISTANT STUDENT
UNIVERSITY OF CAPE COAST
[email protected]