Akufo-Addo One Constituency, One Housing Project To Tackle Housing Deficit Coming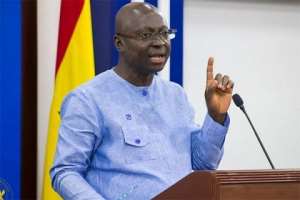 Samuel Atta-Akyea, Minister for Water Resources, Works and Housing
The Akufo-Addo government has dared to tackle the country's age-old housing deficit with One Constituency, One Housing project policy by aiming to leverage on the Clever HouseTM housing and construction technology.
It is a new building technology being introduced into the country which ensures the construction of a complete house in less than 10 days. Prefabricated materials are used to construct very efficient and affordable houses.
The Minister for Water Resources, Works and Housing, Samuel Atta-Akyea, at a ceremony to outdoor the Clever House and Construction Technology, revealed that the government has entered into a Public Private Partnership with two companies to build 100,000 houses across the country.
According to him, the move to enter into the agreement with CH Africa and Rascopat Ghana who would deploy this technology to provide the housing units is to bridge the yawning deficit in the sector.
According to the Minister of Works and Housing, the deployment of cheap but efficient technology in building houses could see the country narrow its housing deficit in the next seven years.
Government intends to distribute these housing units to cover every constituency in the country with flexible and innovative technology.
The use of Clever House Technology is able to reduce construction time by 80 percent as well as the cost of material by 60 percent.
Mr Atta-Akyea appealed to the public to accept the technology as a durable and efficient way of modern housing construction in order to help close the country's housing deficit which is estimated at over two million housing units.
"We need people to change their attitudes and to accept that this is not a toy structure. Engineers at the Ministry have certified the integrity of the buildings under the project. This technology has integrity so people should accept it as a modern way of building," he said in an interview after the ceremony.
The Clever HouseTM housing and construction technology is German engineering designed to fix the huge global housing deficit and to meet the demand for affordable high-quality housing.
It is the smartest innovation in housing and construction engineering since the beginning of time. The technology is invented, approved and certified in Germany for its superiority to the traditional housing construction technologies in terms of strength and durability, quality, resistance to weather conditions, sound and earthquake resistance.