Malnutrition (undernutrition) In Ghana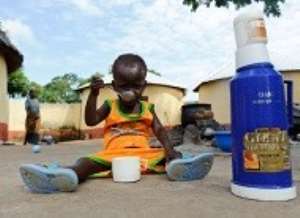 Malnutrition results from a poor diet or a lack of food. It happens when the intake of nutrients or energy is too high, too low, or poorly balanced. Undernutrition occurs when the intake of nutrients or energy is too low. Undernutrition can lead to delayed growth or wasting, while a diet that provides too much food, but not necessarily balanced, leads to obesity.
According to the World Health Organization ( WHO), Malnutrition is the gravest single threat to global public health. Globally, it contributes to 45 percent of deaths of children aged under 5 years.
Too many children in Ghana suffer from health issues stemming from malnutrition which is an underlying cause of one third of all child deaths. More than one in five children in Ghana is stunted (suffering from chronic malnutrition). The situation is worse in the Northern Region where 37 per cent of children are stunted due to childhood malnourishment. Latest available data shows that only 35 per cent of households are using salt that was adequately iodized. Iodine deficiency is the most common cause of brain damage in the world. In addition, 57 per cent of children under five were found to be anemic. Iron deficiency anemia is a major threat to child health and a major cause of maternal mortality in young women who carry their anemia from childhood to adolescence. (UNICEF Ghana, 2017)
Many Ghanaian children under the age of five suffer the irreversible effects of malnutrition in their critical first 1,000 days of life. This is the time in children's lives that determines their health as adults, their ability to learn in school and to perform at a future job.
Over a quarter of children under the age of five in Ghana suffer chronic malnutrition. These children will never reach their full potential in physical or intellectual milestones. This is not a new pattern. Nearly 40 percent of Ghanaian adults grappled with stunted growth as children.
Government statistics about child malnutrition and stunting, data by UNICEF, WHO, the World Food Programme, and the Global Nutrition Report, have compelled little action to improve the situation. This crisis remains an abstract issue of statistical figures to which most of the world turns a blind eye. ( Al Jazeera Media Network, 2017)
In Ghana, especially in the Central Region and other coastal towns where there is abundant fish - protein due to fishing, undernutrition in children is prevalent and is due to following reasons
1. low intake of food- this may be caused by symptoms of an illness, for example, dysphagia (difficulty in swallowing) in children and in children who are born prematurely (they are unable to breastfeed well).
2.certain beliefs - that proteins especially eggs and more fish when given to children will make them become thieves when they are grown.
3. poverty and single parenting(women)- parents are unable to provide children with balanced meals and the right number of feeds per day to help in the growth of the children . Also these mothers do not have any unemployable skills or business to enable them support their children's feeding when the fathers of these children refuse to do so.
4. lack or little use of vegetables (green leafy vegetables) in meals.
5. little or no breastfeeding in babies due to the maternal illnesses or the mother not getting adequate nutrition in order to produce more milk to feed the baby.
Malnutrition during childhood can lead not only to long-term health problems but also to educational challenges and limited work opportunities in the future. Malnourished children often have smaller babies when they grow up. It can also slow recovery from wounds and illnesses, and it can complicate diseases such as measles, pneumonia malaria and diarrhea. It can leave the body more susceptible to disease. ( Nordqvist, 2017)
The importance of nutrition has been emphasized for the intellectual and physical development of children. It is, therefore, important to ensure that children have adequate diet as it will ensure a healthy and productive population in future. The benefits of adequate nutrition to the economy come directly in the form of reduced public health expenditure on health care and indirectly through improved health, which may lead to economic growth (Hoddinott et al., 2008)
In conclusion, the Government of Ghana must allocate more resources including personnel to the Health Service to tackle the widespread unreported malnutrition for prompt treatment.
Furthermore, the Health Service (preventive care) should intensify community health education to help demystify the beliefs or superstitions surrounding the consumption of proteins in children. Also the Government and other Non- Governmental Organisations (NGO'S), should engage in capacity building of women to help them acquire sustainable skills to enable them support their families.
WRITTEN BY;
MABEL BAABA NELSON
BSC. PHYSICIAN ASSISTANT STUDIES
LEVEL 200
UNIVERSITY OF CAPE COAST