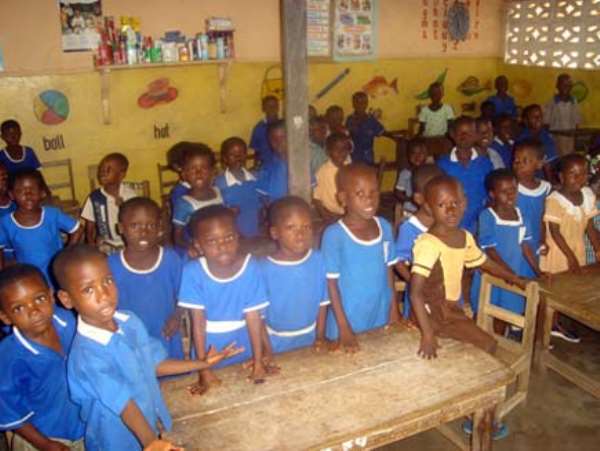 The engine of the chunk, if not all, of the world's greatest successes and development, is education. It is obvious that the benefits of education have become very clear to many of us now more than ever. A lot of us have seen, heard and even witnessed, in some cases, education turns people's lives around. It has made so many poor people rich and caused some people to lose their grip on life. It has been instrumental in the quest for individual and societal advancement, and the absence of it in some instances and places have spelled doom for individuals and societies.
If there is nothing at all to point to as documentary evidence of what education can do, we can not forget how our ignorant forefathers, in the 1800s, compromised their freedom and valuable resources to the Colonial master, on a silver platter only for the likes of Dr. Kwame Nkrumah to vigorously fight back to restore freedom. We need to emphasize, however, the fact that education was the magic that empowered Dr. Nkrumah to become the indefatigable Osagyefo that he turned out to be en route to taking Africa by storm.
Today, China's strong economic showings, of late, have forced everyone to certainly put them on the map, and forced the world to sit up and take notice. But could they (China) have reached this milestone without allowing education to take center stage? Even America of all countries, with all their achievements, successes and place in world politics, still rate education so highly and continue to recommend it to, as well as support Third World countries who are determined to change their story and become successful. It is due to the fact that America would be no America if there was no education. So are the Fruits of education not, indeed, sweet?
Our awareness of the pivotal nature of education has never been in doubt and is, of course, highlighted by the manner in which we continue to focus all our efforts, resources and attention on getting our children to acquire formal education. The good thing is that such efforts are technically geared towards producing future human resources for the country and the world. However, we are neither committed to doing the necessary little things nor going the extra mile to get our children to become their best! When you put your ward in school, you must also be prepared to follow the directions, routines practices, steps, principles, rules, and regulations set by authorities or by natural order, to get the best out of your ward's potential. Don't ever forget that the proper thing to do is to put the cart before the horse. It is always first things first.
One of the greatest challenges we have always faced when it comes to helping learners activate their potential to full heights is the lack of commitment on part of parents. So many factors plus several other stakeholders are also instrumental in determining the eventual success of any school child but the role of the parent can never be underestimated. Surprisingly, little attention is being paid to this problem neither are we doing much as a country, to address the situation.
I've seen in my mind's eye, mouths open wide in utter disbelief of my assertion but let me hasten to disclose that if you find yourself not frequently engaging in any of the following acts, then you are drawing yourself back because you are failing to get your ward to operate at full strength, academically. What it means is that you are toying with their future.
1. You ought to lose sleep, and a lot of it, if your ward is displaying a truant attitude. But if you are also the type who prefers to enjoy the services of your ward, at the least opportunity, at the expense of school contact hours then, please, my friend you need deliverance.
2. You must care about the punctuality of your ward to school. If he/she is caught up in regular lateness to school, then you have to get that corrected as soon as possible.
3. You must make it a point to always ensure that your ward does personal studies in the house. You must try enforcing it, and do well to strictly and regularly/daily ensure it.
4. You have to frequently check up on your child's performance in school /class. You need to pay regular visits to your ward's school to check with the teacher, your ward's academic performance.
5. You must also be particular about who your ward associates with both in school and at home. They (friends and associates of your ward) must be responsible and disciplined children otherwise you insist and ensure that they have nothing to do with your ward.
6. You should encourage and motivate your ward to improve upon their performance. You need to set targets with your ward for him/her to try achieving but you can help them achieve the targets via encouragement and motivation.
7. You sometimes allow your ward to play and spend time with friends. Children build their confidence through association with friends plus playing with colleagues.
8. You must never allow your ward to put on indecent clothes, improper, dirty uniforms or torn attire to school. It could cause your ward to feel inferior to his/her colleagues.
9. You must ensure that your ward always has all learning materials intact when going to school. Even his sports regalia must be complete.
10. You should from time to time check and double check the requests and demands your ward makes in the name of teachers or school authorities. You can do this by storming the school, at times, to confirm some of such requests and demands before fulfilling them.
11. You must not degrade, defame, badmouth, condemn or disrespect your ward's teacher(s) , especially, in the child's presence.
Our behaviour is characterized by so many "don'ts" which are slowly and secretly drawing us backwards while also killing the bright prospects of our huge investments but I have just hilighted a few of them in this write up because of our (Ghanaians') dislike for reading, especially, when the text is long.
Written by:
David Angangmwin Baganiah
Educational Practioner|Advocate|Volunteer
[email protected]
0544900894